Biohazardous materials are a risk to our health and the environment.  They are defined as any biological substances that can cause infection or disease in humans including blood, bodily fluids, mold, sewage, and other toxic materials.  If biohazards are found in your home or building, it is imperative that you avoid contact for your own protection and immediately call the professionals at Aftermath Services to effectively remove and dispose of the biohazard materials.  Aftermath Services has over twenty years of experience and the proper tools and training to offer biohazard cleanup services in the Memphis, TN area.  You can count on the experts in the industry to safely and efficiently disinfect your property while following the proper precautions.
Why Hire a Professional Biohazard Cleanup Company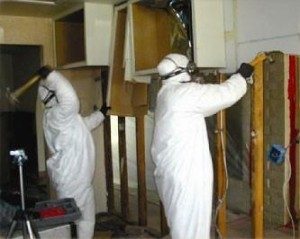 It is simply not possible to clean biohazards using commercial cleaners, tools, and methods.  Attempting to clean biohazards on your own, without protective equipment and proper training can place individuals at risk of potential infections and/or diseases.  Turning to the professionals to handle the clean-up from start to finish will result in the peace of mind that the job has been handled in a thorough and professional manner.
Aftermath Services is the leading expert in biohazard cleanup services, operating since 1996.  Our highly trained technicians remove biohazard materials, as well as clean and restore the area to its original state. Aftermath Services is trained and certified to provide biohazard cleanup services in the following scenarios:
After Death Cleanup
Hoarding Cleanup
Suicide Cleanup
Trauma Scene Cleanup
Pepper Spray and Tear Gas
Aftermath Services: What To Expect
Our professionals at Aftermath Services will properly remove any existing biohazard materials in your home, and we will disinfect, sanitize, and deodorize the area making it safe for people and pets again.  We will carefully transport biohazard materials in approved containers to a licensed facility that specializes in medical waste disposal. Our services also include working with your insurance company to help coordinate your claim.
We can be reached 24 hours a day, 365 days a year for biohazard cleanup by calling (888) 696-7999 in the Memphis, TN area.  We're here for you when you need us most.
---
Related Biohazard Cleanup Services:
---
Recent Reviews
---
Review by Patricia B., Edison, NJ
Aftermath Cleanup
Rating

"Thank you for making our lives easier at a very difficult time. You were compassionate and professional. We appreciate your hard work."
---
Review by Nicole H., Punxsutawney, PA
Aftermath Cleanup
Rating

"Following an unbelievable tragedy, I was met by a compassionate on site supervisor, who proceeded to assume responsibility for which I was unprepared and unable emotionally to handle. Was notified about every step of process being taken, and all was done in a professional manner. Matt still keeps in touch concerning the repairs and our emotional state. Through this horrible tragedy, I felt comforted by his professional manner and felt that I had also made a friend. I would highly recommend Aftermath."
---
Review by Karen V., PA
Aftermath Cleanup
Rating

"I was so comforted by this team.... Jennifer was so soft spoken & Kind & compassionate. Kris & Justin & Jennifer were all more than what we could have prayed for in this situation. Thank you."
---
See All Reviews