United Water Restoration Group of Charlotte
Smoke and soot are some of the worst parts of fire damage. These byproducts linger long after a fire and can cause significant damage, as well as spread into areas the fire didn't reach. They can seep into your walls, carpeting, furniture, and other items. Soot can also be generated by everyday items including burned food and candles as the substances build up over time. Left alone, soot and smoke can cause severe tarnishing and etching of affected surfaces that can be permanent.
United Water Restoration Group of Charlotte serves Riverview, SC, and the surrounding areas with professional smoke and soot cleanup services. When we're done cleaning, we'll also get rid of pesky smoke odors to leave your home smelling fresh again.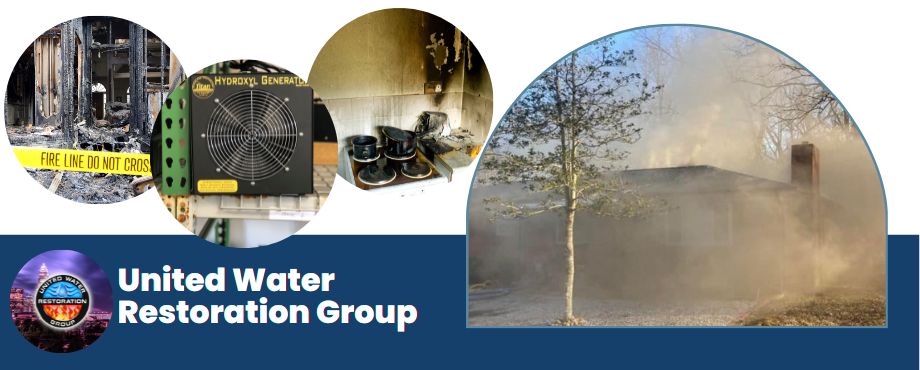 Damage Caused by Smoke and Soot
Many people are surprised to learn that smoke and soot are often responsible for more damage to properties than the fire itself. Even after the fire is out, these byproducts will remain in your property where they can continue to spread and cause destruction until they are removed. If you want the best chance at stopping the extra damage from smoke and soot before it becomes too severe, reach out to the United Water Restoration Group of Charlotte immediately after you experience a fire.
Soot from fire damage is a common and dangerous byproduct of incomplete combustion that creates an abundance of microscopic particles that travel through the air and settle throughout the property. ​ Soot consists of both physical and chemical properties which can cause tarnishing, etching, and discoloring to surfaces and materials. In addition to surface damage caused by soot, it is also a known carcinogen that could result in health complications if inhaled or ingested. Specialized cleaning performed by a professional is necessary to safely remove smoke and soot from your property.
Smoke particles can also become embedded in furniture, walls, and other porous materials, leaving behind a strong, stubborn odor that can linger indefinitely without proper cleaning. At United Water Restoration Group of Charlotte, we have the professional equipment necessary to not just mask these odors but eliminate them at the source, so they're gone for good.
Smoke and Soot Cleaning in Riverview, SC
When smoke damage occurs, you need a team of highly trained professionals who are ready to get to work quickly. Our expert technicians will arrive at your property and immediately begin pre-cleaning smoke and soot stains from surfaces and materials damaged by fire. We'll also provide emergency odor removal services to help remove lingering odors left behind by the fire. If necessary, we can pack out personal items for cleaning and storage.
Our smoke and soot cleaning services include the following steps:
Soot damage pre-cleaning
Stabilization and tarping when needed
Cleaning and restoration of damaged fabrics and upholstery
Content cleaning and pack-out
Deodorization
Contact United Water Restoration Group of Charlotte for Soot Cleanup
After smoke and soot have damaged your home, it is time to call the professionals. Our technicians are equipped with the right equipment and cleaning knowledge to fully restore damaged areas.
If you are experiencing issues after a fire in your Riverview, SC home, contact United Water Restoration Group of Charlotte today at (980) 888-8456.
Free Estimate
---
Related Fire and Smoke Restoration
---
Recent Reviews
---
Review by Celeste Shinholster
Disaster Restoration
Rating

"Highly recommend using this company. I experienced some water leaks in my house due to the recent storm. My Realtor connected me to United Water Restoration Group, they called me right away and came to my house within the hour. Checked my leaks and quickly confirmed all was dry. Very responsive and professional. Will use them again if I experience this issue again."
---
Review by Timothy Saddow
Disaster Restoration
Rating

"This is our second water leak in this house and we called United Water Restoration to help us out. William arrive in 30 mins which surprised me. He told me we were still in good hands and got straight to work. He gave me Joel's information, the Operation Manager. Joel was amazing to deal with, as he helped me through the insurance process. Jaren was a pleasure to work with as he helped me through the reconstruction. All in all Rob's team is still top notch and I will forever use their services."
---
Review by David Effren
Disaster Restoration
Rating

"The entire team at UWR has been impressive to work with. A special shoutout to Chris and William for walking me through the process, answering my calls at all hours and being prompt and professional at each interaction. When they come to work, they leave my home better than they found it, careful to protect my belongings and clean up all debris. They are true partners, working with my Insurance company to fight for what's right. I am especially impressed by the engagement from all levels including from Robert, their President, calling me at 5:00 on a Friday to reassure me that things will be handled to my satisfaction."
---
See All Reviews