ServiceMaster by Crossroads
Encountering a sewage backup in your home or business is never fun; it can be incredibly stressful and dangerous, not to mention disastrous to your building materials. But it's best to avoid all contact with the affected area and to call an emergency cleanup service to remove the contaminated water and disinfect the building materials.
ServiceMaster by Crossroads is available 24/7 in the Noblesville, IN area to provide sewage cleanup services. Our professionals will respond right away to remove all standing contaminated water, remove destroyed porous materials, install replacements, and dry out and disinfect the remaining hard surfaces.
Issues with Sewage Backups
Sewage backups are among the most dangerous messes that can occur within a home or building. Their sources can include any of the following: a toilet backup, natural floodwater contaminated by sewage waste invading the home, or a blockage in the sewer lines that creates a backflow into the home or building.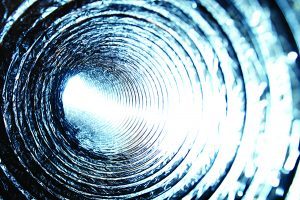 But regardless of how they occur, you should never try to clean the mess yourself as the water is filled with bacteria, viruses and pathogens that pose an immediate safety and health risk. The problem must be handled by trained, licensed, and experienced professionals as it requires advanced equipment, products, and methods to safely restore the area to a safe and sanitary condition.
Sewage Cleanup Services
When dealing with sewage damage, it must be handled right away, or it will spread to other areas. It can also spur the right conditions for mold growth and ghastly odors that will be even more difficult to remove. This is why ServiceMaster by Crossroads responds right away to extract all standing water, dry out the affected spaces, and repair the damaged building structure.
Our sewage cleanup services in Noblesville, IN include each of the following:
24/7 Emergency Response: ServiceMaster by Crossroads is always available to respond to sewage backup emergencies to prevent the damage from spreading and restore safe and healthy conditions. We will also provide updates throughout the service and answer all of your questions.
Damage Inspection: We will first inspect the extent of the damage as well as identify the areas facing the highest risk of permanent damage. A restoration plan will then be put into place for effectively drying and disinfecting the contaminated area.
Sewage Water Extraction and Disinfection: All contaminated water will be removed from the area using powerful water extraction equipment and disinfection products will be used to eliminate the remaining bacteria, viruses, and pathogens.
Building Structure Restoration: All destroyed porous materials like insulation, drywall, ceiling tile and carpeting will be removed, and replacements will be installed. All other hard surfaces will be disinfected to prevent mold and bacteria growth.
Contact Us for Sewage Backup Cleanup in Noblesville, IN
Don't hesitate to contact ServiceMaster by Crossroads 24/7 at (317) 215-5199 in Noblesville, IN for emergency sewage cleanup services.
---
Related Sewage Cleanup Services
Sewage Cleanup Service in Zionsville, IN
Sewage Backup Cleanup Services in Westfield, IN
Sewage Backup Cleanup Services in Indianapolis, IN
Sewage Cleanup in Greenwood, IN
Sewage Cleanup Services in Fishers, IN
Sewage Cleaning Services in Carmel, IN
---
Recent Reviews
---