RestorationMaster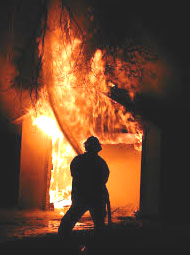 Even after the flames are extinguished, the damage can still spread throughout the rest of the property. This is why it's important to take action right away, as soon as the fire department clears your home or building to be safe to re-enter.
When the damage spreads, smoke and soot byproducts will quickly settle into your furniture, floors, and walls, as well as other building materials on your property. As these contaminants are also corrosive, they can compromise the structural makeup of your building materials, causing permanent damage.
When addressing this problem right away, vast amounts of time and money can be saved during the restoration process because you won't have to replace everything. RestorationMaster provides professional fire damage restoration services for homes and buildings in Joliet, IL and the surrounding areas. Our fire mitigation equipment and products are designed to restore all structures and belongings to their original condition.
Damages Caused by Fires
hile the flames cause chemical combustion and permanent damage right away, everyone is also at risk of personal injury. Most people will feel a big sense of relief once the flames are out, but this doesn't mean that the damage stops here.
Etching and tarnishing occurs to all unaffected surfaces as the smoke and soot byproducts spread throughout the property. Treating these surfaces right away is crucial towards avoiding permanent damage. It's also common to deal with smoke odors, another issue that must be addressed quickly as the particles become embedded into porous building materials.
All of the following is included within our fire damage restoration services:
24/7 availability and emergency response
Emergency pre-cleaning
Wall and ceiling cleaning
Reconstruction services
Content cleaning and pack out services
Odor removal
Insurance claims coordination
Fire Damage Repair – What to Do:
Contact RestorationMaster for emergency fire damage restoration services. Our pre-cleaning will help to prevent permanent damage from the smoke and soot byproducts.
If the outside temperature exceeds 60 degrees, open all windows and doors to air out the property.
Change the filter in your HVAC system.
Dispose of any food that was exposed during the fire.
Clean your refrigerator if you have lost power.
Deliver smoke-damaged clothing needed for immediate use to a specialized restoration service.
Cover return and supply air registers with a damp cheesecloth to filter soot from the air.
Wipe off chrome, porcelain, aluminum, and Formica surfaces.
Fire Damage Restoration – What NOT to Do:
Do not touch any surfaces as the oil from your hands can cause permanent damage.
Do not clean any carpeting or upholstery.
Do not use any electrical appliances until they have been cleared by our technicians.
Do not use any ceiling fixtures if the ceiling is wet.
Do not try to remove any of the soot yourself as improper cleaning can worsen the damage.
Contact Us
For professional fire damage restoration services in Joliet, IL and the surrounding areas, contact RestorationMaster at (630) 576-0336.