RestorationMaster
Water damage is one of the most common types of disasters, but it should never be handled lightly. Due to the number of potential sources, like sewage backups, leaky pipes and appliances, and natural flooding, water damage can occur often and spread quickly, moving to areas with the least resistance.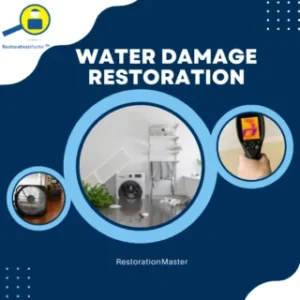 Our technicians at RestorationMaster understand the urgency to address water damage emergencies, which is why we are available 24/7 to respond to the damage. We provide complete water damage restoration services in Homer Glen, IL and the surrounding areas to help homes and buildings recover from structural damage and prevent mold growth. Our professionals are each licensed and trained to respond right away, extract excess water, and dry out the affected areas to return your property to its original condition.
Water Damage Repair
hen our professionals arrive after your first call, we use powerful drying and dehumidification equipment to remove all excess water and moisture from the affected spaces. Additional steps are also taken, including disinfecting the property structure to prevent mold growth.
The majority of home and commercial property owners are not aware that water damage can soil building materials and furnishings. This is because modern structures are filled with porous materials, including drywall, ceiling, and carpeting that absorb water like a sponge. But when you call us right away, we can restore these building materials quickly, using powerful drying equipment and processes. We also use deodorizing technology to remove lingering musty odors.
Our water damage restoration services include each of the following steps:
Emergency response
Water extraction to remove excess water from the affected area
Setting up drying equipment, including dehumidification equipment and air movers to remove remaining moisture from the affected building materials and air spaces
Application of anti-microbials to prevent mold growth
Replacement of soiled building materials
Continuous monitoring to ensure that all moisture and water is removed from the structure and air spaces
Working with your insurance agency during the claims process so you can focus on other matters
Water Damage Cleanup – What to Do:
Call RestorationMaster for professional water damage restoration
Blot dry or mop up as much water as you can
Wipe down wet furniture and prop up furniture skirts and pillows
Place aluminum foil between wet flooring and table and chair legs
Turn on the air conditioner to air out the property
Open all cabinets, doors, and drawers for improved air circulation
Pack books tightly in their shelves until they can be restored by our professionals
Hang up rugs and curtains in a high place to dry
Water Damage Mitigation – What NOT to Do:
Do not enter a room with severe electrical or structural damage
Do not try to remove permanent flooring
Do not try to remove any mold yourself
Do not use any appliances that have water damage before they are inspected by one of our technicians
Do not vacuum any standing water
Contact Us
For emergency water damage restoration services in Homer Glen, IL and the surrounding areas, contact RestorationMaster at (630) 576-0336.