RestorationMaster
Mold is a problem that's much easier prevented than removed; once it starts growing, it poses a number of threats to the health and safety of everyone on the property. Mold is often a direct result of excess moisture or untreated water damage, and it disperses its spores into the breathing air, searching for new places to grow. To protect your family and your property, it's important to address mold right away to prevent it from spreading and triggering health issues.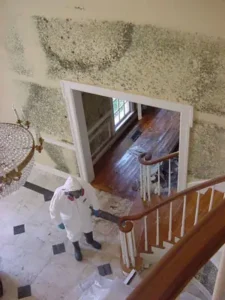 RestorationMaster provides professional mold removal services in Homer Glen, IL and the surrounding area to remove the risk for health issues and restore damaged building materials. Our technicians are licensed and trained, using professional cleaning products that are designed to remove mold at the source.
Problems Caused by Mold
old is usually caused by excess moisture, but it also requires an organic food source known as cellulose. This is a prime ingredient used in a number of building materials, including drywall, flooring, furnishings, and ceilings. When combined with moisture, it won't take long before it starts to grow.
If left to grow, mold will consume the affected building materials, causing discoloration and deterioration to your property structure. To make matters worse, health issues like infections, allergies, and breathing issues will also occur from direct contact with the spores.
Mold Removal Services
It's important to call RestorationMaster  as soon as you find mold on your property. Our professionals will respond right away, contain the affected area to prevent the fungus from spreading, conduct a full evaluation, create a remediation plan, and remove the mold at its source. We will also take measures to prevent it from returning in the future.
Our mold removal services include each of the following:
Full inspection of the damaged area
A detailed report of our findings is sent to your insurance agency
A containment chamber is set up around the affected area to prevent the spores from spreading
Creation of a remediation plan
Full mold remediation according to the plan
Application of anti-microbials to prevent future mold growth
As soon as you find mold on your property, don't hesitate to take action. Just ensure not to disturb or attempt to clean the affected area as doing so will only cause it to spread further. This can also be very dangerous with increased amounts of spores floating in the breathing air. It's best to leave the cleanup process to the professionals as we use advanced products and equipment to remove it at the source and prevent it from returning.
Get a Free Estimate
For a free estimate on mold removal services in Homer Glen, IL and the surrounding areas, contact RestorationMaster at (630) 576-0336.