RestorationMaster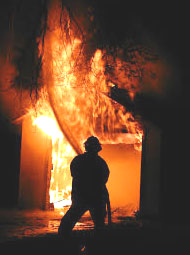 One of the reasons fire damage causes maximum destruction is that the damage still spreads even after the flames are out. This is why it's important to call for emergency fire damage restoration right away to save all unaffected building materials.
After the fire department has put out the fire, the smoke and soot will spread throughout the remaining areas, covering all surfaces in a thick, oily residue. Without immediate action, these corrosive byproducts will compromise the structural makeup of your property structure and contents, causing permanent damage.
As long as restoration services are called immediately, property owners can save significant time and money spent during the recovery process because they can save their damaged materials. RestorationMaster is available in Homer Glen, IL and the surrounding areas to provide fire damage restoration services for homes and buildings. Each of our technicians is licensed and certified to use powerful cleaning products that are also safe for your building materials to remove all smoke and soot residue.
Damage Caused by Fire and Smoke
he flames will cause the chemical combustion in building materials during a property fire, but it's the smoke and soot that covers the remaining unaffected surfaces. Without quick action, these smoke particles will seep into porous materials, like furnishings, wood flooring, carpeting, and drywall.
Etching and tarnishing will cause permanent damage to your property structure if smoke and soot is allowed to linger throughout your property. This is why treating them with professional products and equipment is crucial towards saving your property structure and contents. We can also remove any smoke odors left behind from the cleaning process.
Each of the following is included within our fire damage cleanup process:
Emergency response
Emergency pre-cleaning
Drywall cleaning
Reconstruction
Contents restoration and pack outs
Deodorization
Working with insurance agency during claims process
Fire Damage Cleanup – What to Do:
As soon as the flames are extinguished, contact RestorationMaster for fire damage restoration
If the outside temperature is over 60 degrees, open all windows and doors to air out the property
Wipe off any soot particles from plant leaves
Wipe off all Formica, chrome, porcelain, and aluminum surfaces
Clean out your refrigerator if the power has been shut off
Discard of all food items exposed during the fire
Change the filter on your HVAC system
Fire Damage Repair – What NOT to Do:
Do not touch any surfaces with your bare hands as this could cause permanent damage
Do not clean any upholstery or carpeting
Do not turn on the ceiling fan if the ceiling is wet
Do not try to clean any other surfaces yourself as it can rub in the smoke particles
Contact Us
For emergency fire damage restoration services in Homer Glen, IL or the surrounding areas, contact RestorationMaster at (630) 576-0336.