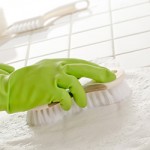 Tile and grout services are an excellent option for the floors and walls of kitchens and bathrooms and tiles are available in many styles and colors to create a range of unique looks. However, it can be a challenge to keep tile and grout clean because dirt and other debris builds up on the tile and in the grout lines which can give it a dull appearance. ServiceMaster DAK Enterprises offers tile and grout cleaning services to Glenview Golf, IL to keep them clean and looking new.
The technicians of ServiceMaster DAK use our truck mounted, high pressure system to provide a deep clean that removes dirt and debris that mopping and other household cleaning methods do not. We can safely use these methods to clean porcelain or ceramic tiles to improve their appearance.
Our tile and grout cleaning services include:
Pre-inspection of the tile surfaces to determine the best cleaning method.
Pre-spray for all spots and stains with our proprietary green cleaning product.
Removal of dirt and ground in soil using high pressure cleaning that rinses and extracts water.
Cleaning of the corners and baseboards.
Efficient drying of all areas.
The cleaning methods that ServiceMaster DAK Enterprises uses for tile and grout cleaning are eco-friendly and our products have a small environmental impact. If you would like your tile and grout surfaces professionally cleaned in your home or business in Glenview Golf, IL, contact us at 847-983-7400 to schedule an appointment.
Tile and Grout Cleaning Services by ServiceMaster DAK Enterprises
---
Recent Reviews
January 7, 2020
Very thorough clean up! The men were very professional and competent! They arrived on time for 5 days and were very pleasant and respectful of my home always wearing "booties" when entering. The room was left immaculate and debris removed in plastic bags day 1. The fans were checked daily until the room was dry. Very good service! Recommending Brian Brown and Gabriel who did a great job!
February 8, 2019
M.J.C.
Arlington Heights, IL
---