The carpet is generally the most noticeable furnishing in an office or home. However, it's also the one feature that tends to get overlooked when it comes to property maintenance and since it does see a significant amount of foot traffic, it doesn't take long for the carpet to get worn or dirty. Soiled, faded or deteriorating carpets can impact the appearance of the décor and this can create a very bad impression on guests that visit your home.
If the carpet in a workplace is shabby and worn, that can leave a very bad impression on your customers and clients as well as employees.  Ensuring your carpet is free of dirt, debris, stains, and odors is one way to maintain a clean, comfortable and healthy indoor environment on your property.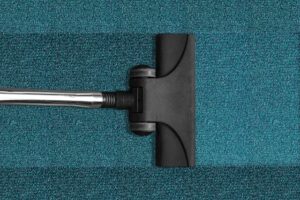 We at RestorationMaster provide professional and customized carpet cleaning services and can expertly clean and restore carpets for residential and commercial properties in Geneva, IL.  We use the latest cleaning equipment and products that effectively remove all the stains and dirt from your carpet and restore it to its original condition. It's best to hire professionals to clean your carpet at least once every year.
Constant foot traffic brings dirt and debris onto the carpet and over time, this debris gets embedded in the carpet fibers which results in discoloration and deterioration. It's a fact that you can reduce this dirt and debris buildup by vacuuming the carpets regularly; however, it requires the expertise of professionals to remove this debris completely.
The experts at RestorationMaster have the experience and equipment to clean residential and commercial carpeting using the specialized hot water extraction method. In this method, state-of-the-art equipment is used to deposit a hot water cleaning solution into the depths of the carpet fibers. The cleaning wand that's used in this application process also extracts all the embedded debris and dirt back out with the solution. This entire process is completed within one visit and it leaves your carpet residue-free and dry the very next day.
The Carpet Cleaning Process in Geneva, IL  
These are the steps we follow with our carpet cleaning services:
The carpet is inspected to identify which cleaning method will work best
All the loose debris will be vacuumed
Stains and spots will be pre-treated
The embedded soil will be loosened using a pre-spray
A specialized hot water extraction method will be used to clean the carpet
All the lingering stains go through a post-treatment
Carpet fibers will be groomed to improve drying and appearance
Final inspection will be carried out
If you want your commercial or residential carpeting in Geneva, IL professionally cleaned, contact us at RestorationMaster for a free estimate. The specialized hot water extraction method we use will dramatically improve the appearance of your carpeting and increase its longevity. Feel free to call us at (630) 576-0336 to get a free estimate or to schedule an appointment.