(630) 576-0336
Water damage may happen due to various reasons. Sometimes, storms and floods cause it, while at others, it could be the plumbing or leaks that result in flooding in your home or building. No matter what the cause of the water damage, it's crucial that you act quickly and get water damage restoration professionals to address the problem without delay.
RestorationMaster is one of the leading providers of water damage restoration services in Yorkville, IL and we respond quickly to your call. We use the latest techniques and water extraction equipment to remove water and excess moisture from the affected areas of your home or building. The meticulous and detailed way we handle the work ensures that the problem is addressed efficiently and that there are no further issues.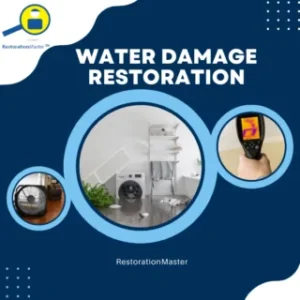 Water damage has the potential to spread quickly and destroy different features and items on your property.  Different porous building materials such as wood and drywall etc. are the most affected and the damage can spread quickly. Our technicians waste no time in removing all the excess water and restoring the affected elements. Your property will be as good as new within the shortest possible time.
Water Damage Restoration – Our Work Processes
Methodical damage assessment
Latest equipment will be used to remove the excess water.
Antimicrobial solution will be applied to the surfaces- this prevents the spread of pathogens.
The property will be dried using industrial-strength air movers.
The moisture will be removed using dehumidifiers.
We also monitor the property to ensure there aren't any traces of moisture in all the indoor areas of your home or building.
Our company has the expertise, experience and the resources to handle water damage restoration jobs of every scale and complexity. We understand that this type of problem can occur at any time which is why we operate all 365 days of the year and provide round-the-clock services.
We are committed to offering quick and reliable solutions that provide our customers value for their money. Our technicians reach your location within 1-2 hours of your call to assess the damage and conduct the work professionally and efficiently. For more information or details about our excellent water damage restoration services in Yorkville, IL contact RestorationMaster at (630) 576-0336.