(630) 576-0336
Water damage in your home can be caused by many different factors. Sometimes, a natural disaster such as a storm or flood can cause it, while at others, damaged or poorly-installed water pipes or plumbing can result in flooding in your property. Regardless of what has actually caused the problem, you must keep in mind that water spreads quickly and can cause a lot of damage to various installations and features on your property.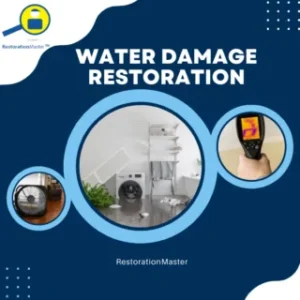 The one way to curb this damage and prevent heavy financial losses is to hire water damage restoration experts to deal with the problem. All the excess water must be removed and the space must be dried out quickly to prevent more serious damage or mold growth. RestorationMaster is one of the leading service providers in this industry and provides water damage restoration for commercial and residential customers in Oswego, IL.
We understand that emergencies such as these can surface at any time and that's why we provide 24/7 services, all 365 days of the year. Regardless of what time of the day or night you call us, we act quickly and our technicians will be at your premises within 1-2 hours. It doesn't take long for water damage to occur because a lot of modern building materials are porous; they absorb water very quickly which can lead to structural damage and mold growth.
We use the latest water extraction equipment and techniques to stop the spread of water. Advanced dehumidifying and drying equipment is used to dry all the features and installations and ensure that your home or commercial building is restored within the shortest possible time. Aside from this, we also take certain preventive measures to prevent the growth of mold on your property.
Water Damage Restoration in Oswego, IL– The Steps we Follow
Detailed assessment of the damage
All excess water will be extracted
Affected areas will be treated with an antimicrobial solution; this helps prevent mold growth
Industrial air-moving and dehumidifying equipment is used to dry the area
Your property will be monitored to ensure all moisture is removed
We provide efficient and reliable 24/7 water damage restoration in Oswego, IL. Our response time is very short and our technicians ensure that your property is cleared of water in the shortest possible time. Call RestorationMaster at (630) 576-0336 if you need water damage restoration.