Tragedies that end in a serious injury or death always occur without warning and the emotional shock of the situation can make it difficult to handle the aftermath.  These situations require immediate action to alert the proper authorities and to deal with any biohazard materials at the scene like blood and bodily fluids that pose a serious health risk.  Unfortunately, law enforcement officials and EMT's will not clean up biohazard materials from your property, that responsibility falls on you.  RestorationMaster provides trauma scene cleaning services to restore accident and crime scenes that contain biohazard materials in Oswego, IL.  We will safely and thoroughly restore trauma scenes back to their natural state and we take a compassionate approach out of respect for those who have experienced a loss.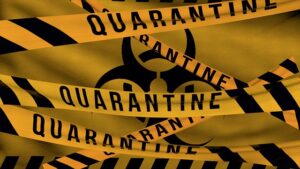 When a violent crime or serious accident occurs, it is common for the scene to contain biohazard materials including blood and bodily fluids.  The presence of biohazard materials makes the scene very dangerous as harmful toxins like viruses and bacteria can easily transfer to bystanders and result in serious infections or disease.  This is why you should never attempt to clean up or remove any biohazard materials.  Our technicians at RestorationMaster are trained and licensed to remove biohazard materials safely and we use advanced cleaning products and disinfectants to remove all traces and reduce the risk of negative health effects.  The biohazard materials we remove are taken to a licensed medical waste facility for proper disposal.
The biohazard and trauma scene cleaning services we provide include:
Cleanup and removal of blood, tissues, and other bodily fluids
Cleaning and sanitization of the affected area to remove all traces and reduce health risks
Safe transport of biohazard materials to a licensed medical waste facility for disposal
Cooperation with law enforcement for cases involving a violent crime
Our services adhere to local, state, and federal health regulations
Part of what makes these situations difficult to handle is that they often result in a serious injury or death.  If you experience the death of a loved one from a violent crime or accident, the restoration process can be especially painful.  Our technicians recognize the difficulty of these situations and we help ease the emotional burden as much as we can by treating those who are grieving with compassion and respect.  We restore the scene quickly and discreetly to spare you the sight and our unmarked vehicles help protect your privacy as we carry out the restoration.
If a violent crime or accident has taken place on your property in Oswego, IL, make sure you keep a safe distance and call 911 immediately for emergency response.  Once you alert the right authorities, contact RestorationMaster to safely and effectively clean up biohazard materials from the scene.  You can reach us 24 hours a day at (630) 576-0336 for biohazard and trauma scene cleaning services.