RestorationMaster
Sometimes after cleaning your home thoroughly, certain rooms may not look as clean as you would like them to, especially if these rooms are carpeted. The carpet has a major effect on the appearance of a room and it also absorbs more dirt and debris than any other furnishing. This embedded debris leads to discoloration as well as general wear and tear and it cannot be removed simply by vacuuming. RestorationMaster provides professional carpet cleaning services for homes in Newtown and Yardley, PA to clean and restore all types of carpeting. Our state-of-the-art cleaning equipment deep cleans carpeting to help improve its appearance and extend its life.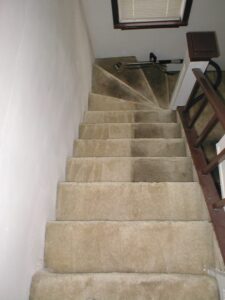 Cleaning your carpet with rented equipment or more traditional shampoos and chemicals can leave a residue on your carpet and take days to dry properly. We use the hot water extraction method which involves hot water and mild detergents that dry within one day without leaving any residue behind. The solution of hot water and detergent is applied directly to the carpet fibers with a cleaning wand and this wand then extracts the solution back out along with embedded dirt and debris. The water that is extracted from the carpet is sent to a truck-mounted holding tank to be disposed of off-site. We also have specialized cleaning products that are effective for treating stains.
You can expect the following steps from our carpet cleaning process:
Pre-Treatment: We pre-spry your carpet to help loosen embedded soil and treat any stains.
Hot Water Extraction: Our hot water extraction cleaning method is administered with our truck-mounted equipment and it will restore the look of the carpet as it cleans.
Long-Term Protection: We can apply a fabric and stain solution to protect your carpet.
Convenience: We can complete the carpet cleaning process in one visit and your carpet will be dry in about a day.
Free Estimate: We offer free estimates for our carpet cleaning services based on your cleaning needs.
Guarantee: We guarantee that you will be satisfied with our results and we do a final walk-through with you to make sure.
You should have your carpet professionally cleaned about every 6-12 months to remove embedded debris and extend the life of your carpet. Maintaining your carpet will also improve the look of your home and contribute to a healthier indoor environment.
Call us for Carpet Cleaning in Newtown and Yardley, PA
If your home in the Newtown and Yardley, PA area could benefit from professional carpet cleaning, contact RestorationMaster for an estimate for our carpet cleaning services.
You can call us anytime at (267) 961-7065 for more information.
---
Related Carpet Cleaning Services