ServiceMaster by Rice
Fire and Smoke Damage Restoration for Marion, IA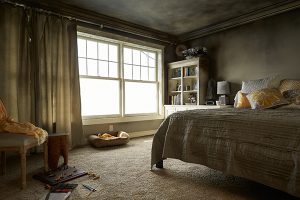 Fires can cause severe damage because their flames result in serious charring and the soot and smoke can tarnish and etch affected materials — even ones unaffected by the flames. When the fire has been extinguished, soot keeps spreading, and corrosive byproducts and chemical emissions will cause even more damage. If the damage isn't taken care of soon enough, then it can become permanent. ServiceMaster by Rice can help homes and businesses in Marion, IA that have been harmed by fire with our fire and smoke damage restoration services. Our technicians can repair structural damage from the flames and effectively clean up the damage caused by smoke and soot. To prevent permanent damage, you should get in touch with us for our services right away.
Our expert, well-trained technicians will respond to your emergency right away to prevent further damage. We will remove soot from household surfaces and make repairs to damaged furnishings and structural elements. Our technicians use the best cleaning equipment and products when conducting cleanup and restoration on the following:
Carpet and Upholstery: Our technicians will get rid of soot damage from carpeting and upholstery. We eliminate smoke odors and remove excess water that was left behind from extinguishing the fire.
Ceilings, Walls, Cabinets, and Floors: Our technicians will clean soot and tarnishing from these surfaces, using specialized cleaning products that safeguard against corrosion.
Soft Goods: Drapes, curtains, clothing, and other similar objects are taken off-site to be cleaned and restored through our restoration dry cleaning services.
Structural Restoration: Any damaged structural elements are repaired and restored.
After a Quick Assessment of the Fire Damage, We Create a Restoration Plan with These Steps:
Complete Assessment: Our technicians conduct a thorough assessment of the damage done by fire, smoke, and water. Then we use this to develop a plan for restoration.
Emergency Response: Acting quickly is essential, because properties are left vulnerable and may become permanently damaged. Knowing this, we are available 24/7 to help with fire damage emergencies in Marion, IA.
Fire and Smoke Restoration: Any salvageable structural elements and furnishings are saved.
Deodorization: We use ozone and hydroxyl units to remove fire and smoke odors.
Corrosion Control: A fire's chemical emissions and byproducts may corrode building materials, fabrics, electronics, and more. Our technicians will clean these to prevent permanent damage and corrosion.
If a fire damages your property, it can be widespread, and the harm can become permanent. If your property in Marion, IA has been damaged by a fire, contact ServiceMaster by Rice for our fire and smoke damage repair services. Our technicians are experienced and properly equipped to handle fire damage in both residential and commercial properties.
You can reach ServiceMaster by Rice at (319) 243-3777 on a 24/7 basis for our fire and smoke damage repair services in Marion, IA.
---
Related Fire Damage Restoration Services
Fire Damage Restoration in Des Moines, IA
Fire Damage Removal in Cedar Rapids, IA
Fire Damage Restoration in Clive, IA
---
Recent Reviews
June 11, 2019
As of Monday it was a 10,as of today a 5. you have not quite finished what was told would be done. Our pool table was to be removed by you guys per Doug. Then once removed the remaining sub floor that it is on would be removed. This was to be done Tuesday 6/11. It is all still there as of this writing. Called Doug about this Tuesday morning and said would check with the Pool Table movers. Did he do this? Never once heard from any movers to arrange a time to be there. So makes me wonder if this would be completed if wasn't writing this here. Steve [LAST NAME REMOVED]
June 6, 2019
Our sump pump failed right before Memorial Day Weekend 2019 and flooded our basement with about 1-2 inches of water. American Family Insurance recommended that we call Service Master and one other company. We called both immediately; the other company never, ever called back!!! While Service Master could not come out immediately, when they finally did come out to survey our damage, their employees were professional, polite, respectful and thorough. A Project Manager was on site and made sure that our entire basement was checked. They immediately got to work and within several hours, we had fans throughout the basement. Eventually, they removed all the wet padding and carpeting, cut out the affected dry wall and removed the damp insulation. Their employees got rid of all the wet material. It took about a week but they did a great job. I would recommend Service Master in a heart beat!
Click here for more reviews