ServiceMaster by Rice
Fire and Smoke Damage Restoration for Marion, IA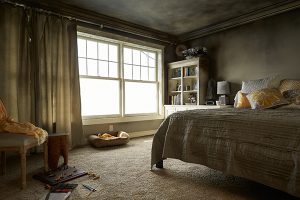 Fires can cause severe damage because their flames result in serious charring and the soot and smoke can tarnish and etch affected materials — even ones unaffected by the flames. When the fire has been extinguished, soot keeps spreading, and corrosive byproducts and chemical emissions will cause even more damage. If the damage isn't taken care of soon enough, then it can become permanent. ServiceMaster by Rice can help homes and businesses in Marion, IA that have been harmed by fire with our fire and smoke damage restoration services. Our technicians can repair structural damage from the flames and effectively clean up the damage caused by smoke and soot. To prevent permanent damage, you should get in touch with us for our services right away.
Our expert, well-trained technicians will respond to your emergency right away to prevent further damage. We will remove soot from household surfaces and make repairs to damaged furnishings and structural elements. Our technicians use the best cleaning equipment and products when conducting cleanup and restoration on the following:
Carpet and Upholstery: Our technicians will get rid of soot damage from carpeting and upholstery. We eliminate smoke odors and remove excess water that was left behind from extinguishing the fire.
Ceilings, Walls, Cabinets, and Floors: Our technicians will clean soot and tarnishing from these surfaces, using specialized cleaning products that safeguard against corrosion.
Soft Goods: Drapes, curtains, clothing, and other similar objects are taken off-site to be cleaned and restored through our restoration dry cleaning services.
Structural Restoration: Any damaged structural elements are repaired and restored.
After a Quick Assessment of the Fire Damage, We Create a Restoration Plan with These Steps:
Complete Assessment: Our technicians conduct a thorough assessment of the damage done by fire, smoke, and water. Then we use this to develop a plan for restoration.
Emergency Response: Acting quickly is essential, because properties are left vulnerable and may become permanently damaged. Knowing this, we are available 24/7 to help with fire damage emergencies in Marion, IA.
Fire and Smoke Restoration: Any salvageable structural elements and furnishings are saved.
Deodorization: We use ozone and hydroxyl units to remove fire and smoke odors.
Corrosion Control: A fire's chemical emissions and byproducts may corrode building materials, fabrics, electronics, and more. Our technicians will clean these to prevent permanent damage and corrosion.
If a fire damages your property, it can be widespread, and the harm can become permanent. If your property in Marion, IA has been damaged by a fire, contact ServiceMaster by Rice for our fire and smoke damage repair services. Our technicians are experienced and properly equipped to handle fire damage in both residential and commercial properties.
You can reach ServiceMaster by Rice at (319) 243-3777 on a 24/7 basis for our fire and smoke damage repair services in Marion, IA.
---
Related Fire Damage Restoration Services
Fire Damage Restoration in Des Moines, IA
Fire Damage Removal in Cedar Rapids, IA
Fire Damage Restoration in Clive, IA
---
Recent Reviews
February 8, 2020
The responsiveness to our water problem was immediate and professional. The team took the problem away from me and just handled it, all the while communicating directly with me. Their daily progress follow up was professional right through the completion of the job. The team that serviced our problem were knowledgeable and a pleasure to be around.
Click here for more reviews