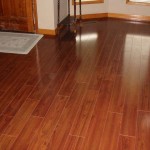 Laminate floors are a popular flooring option that is chosen for its affordability and durability but they can be difficult for homeowners to properly maintain themselves.  These floors must be professionally deep cleaned to remove embedded debris and help improve their appearance and longevity.  RestorationMaster provides expert laminate floor cleaning services to homes in the Hinsdale IL area.
Dust, dirt, and other debris accumulate within the cracks and crevices of laminate flooring and it cannot be removed simply with sweeping or vacuuming.  The technicians of RestorationMaster provide effective deep cleaning services to remove debris build up from laminate floors using the best methods and equipment available.  We begin our laminate floor cleaning service by determining the best cleaning method with the client to properly clean the floor and restore them to their original condition.
The professionals of RestorationMaster are experts in hard floor cleaning and provide effective laminate floor cleaning services to improve their look and longevity.  Contact us anytime at (630) 576-0336 for laminate floor cleaning in your home in Hinsdale, IL 60521.