Homes that have been flooded or exposed to excessive moisture may experience mold growth that can cause damage to property and pose certain health hazards. RestorationMaster provides mold remediation and cleanup services to remove mold growth as well as repair or replace the areas that were affected. We can be contacted 24 hours a day to perform mold cleanup services for homes and businesses in Edina, MN.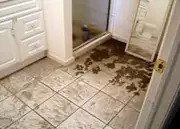 Our trained technicians test every property for moisture exposure before the mold remediation begins. These initial tests help our technicians determine how long the property has been exposed to moisture, how much moisture was absorbed, and how deep the moisture penetrated. After these tests are complete, the mold removal and remediation process begins in which we remove all mold growth while preventing the mold from spreading to unaffected areas of the property. We use the most advanced products, methods, and equipment to ensure that all mold is completely removed.
Our mold remediation process includes:
Finding and fixing the moisture source.
Removing mold growth or replacing contaminated surfaces.
Protecting workers, clients, and their property in the process.
Containing the mold growth to keep unaffected areas safe.
Mold growth is a serious problem that should be handled immediately and RestorationMaster provides mold remediation for homes and businesses in Edina, MN. We can be reached 24 hours a day at (952) 592-1103 for mold cleanup services.
---
Related Mold Remediation Services: