Mold growth can happen in just about any home at any time. Mold is generally caused by an excess of water or moisture and an organic food source coming together. Once your house is afflicted with mold, it is essential that mold remediation happens immediately because without it, the mold will spread rapidly throughout your home.
Without mold removal, the mold will damage your belongings and boost you and your family's risk for health related issues. If you have a need for mold remediation in your household or office, contact Target Restoration in Conroe, TX immediately!
Mold Damage Cleanup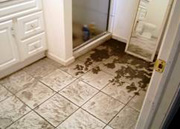 In 2003, Texas House Bill 329 was passed. This bill gave the Texas Department of State Health Services the power to regulate mold remediation services. Before 2003, it was common to find mold remediation services taking part in unethical practices in order to gain business and profit. It is illegal for a Texas mold removal service not to abide by the guidelines outlined in the bill.
At Target Restoration in Conroe, TX we are proud to say that all of our technicians have been educated on the specifications of the bill and are dedicated to helping your home or office become smoke free! We have been committed to this goal long before 2003!
Target Restoration mold remediation services include the following steps:
● Estimate of the mold and moisture level
● Deep cleaning and storage for the mold infested objects
● Complete extraction of moldy areas
● Air quality control and cleaning
● Anti-microbial application and sanitization
● Clearance of the mold remediation process by a Texas DSHS licensed Mold Assessment Consultant (MAC)
Get a Free Estimate
If mold growth is a problem in your household or office building, then be sure to contact us immediately! The longer you wait, the greater the risk for health problems and even further damage to your home. Call Target Restoration in Conroe, TX for your mold remediation assessment today! We are available 24 hours a day at (713) 966-6064.
Related Services:
Mold Remediation in Spring, TX
Mold Removal in Cypress, TX
Mold Remediation Services in Cinco Ranch, TX
Mold Remediation Company in Katy, TX
Mold Removal Services in Mission Bend, TX
Mold Damage Cleanup in Rosenberg, TX
Mold Mitigation in Victoria, TX
---
Recent Reviews
---