RestorationMaster
Types of Mold Damage
Mold is a serious issue that can be dangerous. It can grow in concealed areas, happen at any time, damage your property, and cause negative health effects to anyone exposed to it. Mold spores are naturally present in the environment and will develop into mold growth when they encounter an environment that provides it with food and moisture sources. Mold growth is primarily triggered by moisture.
Knowing this, mold growth is commonly found in the aftermath of water damage or as a result of humidity or leaks. Humidity and slow leaks can sometimes cause mold to grow in concealed areas, such as above ceilings, or in basements and attics, where it's tougher to find. In terms of a food source, mold often uses cellulose. This organic substance is present in drywall, wood, and many other common building materials. With time, the mold will damage these materials so heavily that they become unsalvageable. But property damage isn't the only harmful effect of mold. Anyone exposed to mold can suffer from negative health effects, including allergies.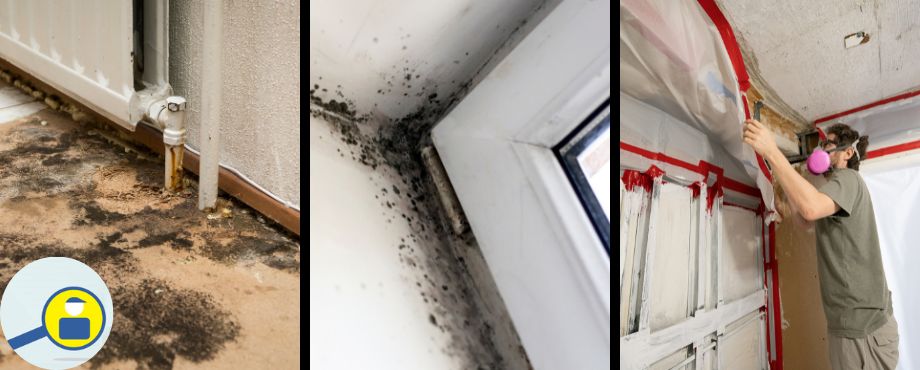 Mold Removal and Mold Remediation in Bristol and Croydon, PA
With our mold remediation and mold removal services in Bristol and Croydon, PA, RestorationMaster can clean and restore homes and businesses that are the site of mold growth. We are a Quality Restoration Vendor, so every one of the technicians we employ is well-trained and uses the industry's best equipment available to clean and remove mold from your contaminated property.
Given the amount of harm, mold can cause your property and to others, it's always in your best interest to seek professional help for mold growth. Our professional technicians have undergone the highest level of training for mold remediation and removal. No matter the extent of the damage, we are prepared and equipped to handle any case of mold.
When working on your home or business, we use the industry's most advanced cleaning products and equipment. Within our mold remediation services, we will conduct testing that locates all mold growth, repair or replace damaged surfaces, and fix the moisture source responsible for the mold.
Call RestorationMaster for Mold Removal in Bristol and Croydon, PA
If you notice mold growing in your home or business, it must be addressed immediately to limit the potential for further damage and health problems.
Call (267) 961-7065 to reach RestorationMaster for the mold remediation and mold removal services we provide in Bristol and Croydon, PA.
We can be reached for our help 24 hours a day.
Free Estimate
---
Related Mold Remediation & Mold Removal Services
Mold Remediation in Levittown, PA
Mold Remediation in Willow Grove and Southampton, PA
Mold Remediation in Buckingham and Doylestown, PA
Mold Remediation in Warminster, PA
Mold Removal in Newtown and Yardley, PA