Serious accidents and violent crimes that cause death or major injuries are a daily occurrence in the United States, but these incidents are so few and far between that many people may never witness or experience this type of situation. However, it helps to know what to do if you encounter such a scene, especially because these scenes can be emotionally overwhelming and dangerous. You should always call 911 first and make sure you keep your distance because biohazard materials like blood and bodily fluids may be infectious. Only a licensed professional can clean up biohazard materials safely while eliminating the risk of infection or disease. ServiceMaster of Aurora provides trauma scene cleaning services in Aurora, IL to safely clean up scenes contaminated by biohazard materials. We are licensed and equipped to effectively remove biohazard materials and our technicians are sensitive to the emotions of those who have lost a loved one.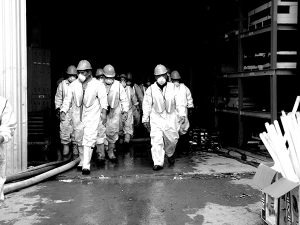 It is common for biohazard materials like blood, bodily fluids, and tissues to be found at trauma or crime scenes and exposure to these materials can lead to infection or disease because they may contain bacteria and other harmful substances. It is best to leave the cleaning to the professionals because trying to cleanup biohazard materials yourself is extremely dangerous. We have the right equipment and cleaning products to safely clean up biohazard materials and we will disinfect the affected area to reduce the risk of spreading infection or disease. Our technicians stay protected from potential health issues with personal protective equipment (PPE) and we properly transport biohazard materials to a medical waste facility that can dispose of them.
The biohazard and trauma scene cleaning services we provide consist of the following steps:
Cleanup and removal of all biohazard materials
Thorough cleaning and disinfection of the scene to prevent the spread of infections
Transport of biohazard materials to a medical waste facility for disposal
Compliance with local, state, and federal government health regulations
Dealing with the aftermath of a major accident or violent crime is difficult enough, but losing a loved one in this way can be devastating. We know that more often than not, these situations involve grieving friends and family members and we make sure to treat grieving individuals with compassion to provide some peace of mind. We will also protect your privacy through this difficult time by using unmarked vehicles and we work quickly and diligently to get the area restored to its normal state. Our technicians are also trained to work in cooperation with law enforcement so we will not disrupt their investigation if a crime has been committed.
Discovering the scene of a violent crime or accident can be a major shock but you must remember to keep your distance to protect your health and immediately call the proper authorities. Once law enforcement and EMTs respond, call ServiceMaster of Aurora for trauma scene cleaning services to ensure that the scene is safely restored. You can call us anytime 24 hours a day at (630) 352-0753 to respond to emergencies in Aurora, IL.