Water damage can be a major issue in your home because it will lead to structural damage and mold growth that is expensive to fix. If you experience flooding or water damage in your home that involves sewage, the situation is much more dangerous. Sewage water consists of waste and harmful toxins like bacteria that can spread infection or disease. You should not attempt to clean up water that contains sewage and instead call a professional that can do it safely. ServiceMaster of Aurora provides sewage backup cleaning to remove sewage water from homes in Aurora, IL. We use the best water extraction equipment available to remove the water and we will fully disinfect the area to prevent health issues from the sewage.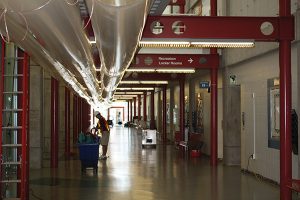 Sewage can end up in your home if the main line leading out to the sewer becomes blocked or if there is natural flooding that mixed with sewage before entering your home. Sewage backups result in the same problems as any case of water damage. The water gets absorbed in porous building materials which causes discoloration, staining, and weakening of the materials that can lead to severe structural damage. The added danger with sewage backups is in the content of the sewage. The waste materials in sewage create a huge mess that includes discoloration, waste buildup, and foul odors. Harmful bacteria and microorganisms contained within the sewage can spread disease or infection to anyone that encounters the water.
If you suspect that the excess water in your home contains sewage, make sure you call ServiceMaster of Aurora right away to clean up the sewage and restore the damage. Our technicians can effectively remove sewage water and we will also thoroughly clean and restore the affected areas to remove waste materials, odors, and harmful bacteria.
The sewage backup cleaning services we provide include the following steps:
Sewage Extraction: We can safely and effectively remove flood water that contains sewage with our water extraction equipment.
Cleaning, Disinfection, and Deodorization: After removing the sewage water, we will deep clean and disinfect the area to prevent health issues as well as remove lingering odors.
Drying and Dehumidification: We make sure the entire area is dry by strategically placing dehumidifiers and other drying equipment around the affected areas.
Dealing with water damage in your home is already difficult enough, but the presence of sewage makes it dangerous. Make sure you call ServiceMaster of Aurora if you suspect that there is sewage in your home in Aurora, IL. Our technicians have the training and equipment to remove it safely and we will also restore the affected area to a clean and safe condition. You can call us at (630) 352-0753 to respond to your sewage backup emergencies.