ServiceMaster Cleaning and Restoration
No matter how much of it has occurred, water damage to a home or building is always concerning. However, the situation becomes even more severe if there is standing flood water. This high volume of water will spread throughout your property quickly, being absorbed by porous building materials and furnishings. As the water is absorbed, the affected materials will become damaged. The water also presents a high chance for mold and/or mildew growth.
Finding out that your home or business has flooded is often overwhelming, but it's important to get help right away. Helping homes and businesses in Mt. Sterling, IL, ServiceMaster Cleaning and Restoration provides complete flood cleanup services. Within these services, our well-trained and properly equipped technicians will come to your property to extract the floodwater, thoroughly dry out the affected areas, and restore the damage.
Flood Damage
Indoor flooding causes extensive damage to building materials, furnishings, and your personal content. Because of this, it's imperative that you immediately call us for professional help. The more time the water is unaddressed, the more damage it causes. Drywall, flooring, insulation, and wood are among the building materials that are most susceptible to severe damage because of their porous nature–they quickly absorb water and can warp or buckle, leading to eventual structural damage. Upon exposure to water, other materials may become damaged by corrosion or discoloration.
In addition to the damage, excess water will create the perfect environment for mold and/or mildew growth. If mold does grow, it will cause further damage to the harm already done by the water. Mold can also cause health issues for anyone exposed to it.
On top of that, floodwater will sometimes also be contaminated with sewage. This worsens the water damage, and can be tough to tell whether the water has contaminates. Sewage water contains harmful toxins and bacteria that can cause disease and infection, so you need to avoid contact with the water if you believe it has been contaminated.
Flood Cleanup in Mt. Sterling, IL –
Watch Our ServiceMaster Video:
For flood cleanup and restoration services in Mt. Sterling, IL, contact ServiceMaster Cleaning and Restoration at (217) 408-0418.
Flood Cleanup in Mt. Sterling, IL
At ServiceMaster Cleaning and Restoration, our professional technicians will promptly arrive at your property following your call to start our flood damage cleaning services. Using advanced water extraction and drying equipment, we will extract standing water and excess moisture from affected furnishings and building materials. Then, we will clean and disinfect the property and eliminate any mold or mildew.
The following are included within our flood damage cleanup services: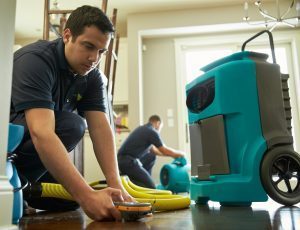 We will first perform an immediate damage assessment, then provide an estimate for our services.
We will inform you of the restoration process in a detailed manner and maintain an open line of communication.
Our technicians will remove standing water using water extraction equipment.
We will place drying equipment in the damaged areas to eliminate excess moisture from the affected furnishings and materials.
After proper drying, we will thoroughly clean and disinfect the affected areas.
Until you're satisfied with the job, we will not consider our job complete.
Contact us 24/7 for Flood Restoration
If your property in Mt. Sterling, IL, has flooded, reach out to us for help immediately, as the water can cause a lot of damage in a small amount of time. We will extract the floodwater and conduct complete cleanup of the damage. After doing an assessment, we'll provide an estimate for our services and work with your insurance provider on the claims process.
For emergency flood damage cleanup services in Mt. Sterling, IL, call (217) 408-0418 at any time of the day.
---
Related Flood and Water Damage Removal and Restoration Services:
Flood Restoration in Hannibal, MO
Flood Damage Restoration in Jacksonville, IL
Flood Restoration in Macomb, IL
Flood Cleanup in Quincy, IL
Water Damage Restoration in Hannibal, MO
Water Damage Restoration in Jacksonville, IL
Water Damage Restoration in Macomb, IL
Water Damage Restoration in Quincy, IL
April 17, 2021
Martha Reardon
Jacksonville, IL