ServiceMaster Cleaning and Restoration
No one wants to discover mold in their property because of the harm it presents. Mold can cause serious property damage and can lead to health problems for anyone exposed to it. Water damage is the most common trigger for mold growth because it provides the ideal environment for its growth. Mold needs a moisture source and a food source to grow and it uses surfaces with organic materials as a food source. The longer the mold is present, the worse damage it causes, and the more likely health problems are to occur. Because of this, it's crucial to have mold removed promptly.
Helping homes and businesses in Mt. Sterling, IL, ServiceMaster Cleaning and Restoration provides mold remediation services. Within these services, we will eliminate mold from properties and clean affected areas. Using proper equipment, our technicians will locate and remove the mold and work to prevent the fungus from returning. No matter the size of the mold infestation, our technicians are prepared to give you a mold-free home or business.
The Importance of Mold Removal in Mt. Sterling, IL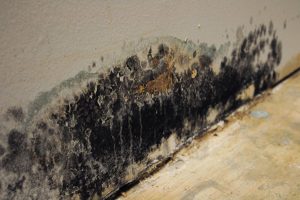 Regardless of the time of year, your property is at risk of being a site of mold growth. All mold spores need is the proper environment. Constantly present in the air, mold spores will form into mold colonies when they encounter a food and moisture source. As such, bathrooms, kitchens, attics, and basements are common areas for mold growth because they often contain high moisture levels. Within 24 to 48 hours, mold can appear in water-damaged areas and grow on surfaces made of cellulose, which is mold's main food source. As the mold eats away at the material, it will become damaged, which can lead to structural issues.
Structural damage, however, is just one concern of mold growth. In addition to property damage, mold can also cause health problems. People who are exposed can suffer from breathing problems, coughing, headaches, nasal congestion, itchy throat and eyes, skin irritation, and other allergic reactions. If exposed for a long amount of time, individuals may suffer from respiratory infections, asthma, and other more severe symptoms.
Mold Removal in Mt. Sterling, IL –
Watch Our ServiceMaster Video:
For the mold removal and remediation services we provide in Mt. Sterling, IL, call ServiceMaster Cleaning and Restoration at (217) 408-0418.
Mold Prevention
Mold can appear at any time, so it's essential to take preventative measures. The best way to prevent mold is to control the moisture levels of your property by keeping it well ventilated. For high-level moisture areas, keep a constant eye out for mold growth signs. If you discover a water concern, then address the problem within 24 hours to limit the chance for mold growth.
Once you spot mold growing in your home or business, reach out to a professional for help right away. Mold is not only difficult to remove on your own, but dangerous as well. Mold often grows in unconcealed places, too. Professionals can locate hidden cases of mold and thoroughly eliminate all mold in a proper manner.
Mold Remediation Services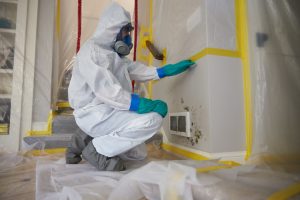 The technicians we employ at ServiceMaster Cleaning and Restoration have the necessary equipment to locate and eliminate mold from affected homes and businesses. To begin, we'll contain the mold so that unaffected areas remain safe from the fungus. Then, we use advanced equipment and methods to effectively remove the mold.
The following can be expected from the mold removal services we provide:
Mold growth assessment and isolation
Moisture source repair
Mold removal from affected materials and objects
Building material removal for those permanently damage
Cleaning of affected areas
Reconstruction to replace soiled building materials
Personalized mold prevention plan
Contact Us for Mold Removal in Mt. Sterling, IL
No matter the amount of mold, any mold growth in a property is a serious issue that necessitates prompt action. At ServiceMaster Cleaning and Restoration, our professional technicians have the equipment needed to locate and remove all cases of mold from your home or business. We will also work directly with your insurance provider to handle the claim.
For complete mold remediation services in Mt. Sterling, IL, call ServiceMaster Cleaning and Restoration at (217) 408-0418.
---
Related Mold Removal Services:
Mold Remediation in Hannibal, MO
Mold Removal in Jacksonville, IL
Mold Remediation in Macomb, IL
Mold Removal in Quincy, IL
April 17, 2021
Martha Reardon
Jacksonville, IL