RestorationMaster
It is difficult to fully protect your home from water damage. The source of water damage can be outside elements like rain and flooding, or internal issues like plumbing leaks, pipe bursts, and backups.  However, once water gets into your home or building, it can present major problems.  Water spreads easily through porous building materials and furnishings which can lead to deep, widespread damage.  The excess moisture also creates conditions conducive to mold growth which can increase the damage and make the situation more dangerous.
At RestorationMaster , we provide commercial and residential water damage restoration and cleanup services to remove floodwater and excess moisture in buildings in Idaho Falls, ID.  With our advanced equipment and 3-phase restoration process, we will ensure that all moisture is removed and that the affected areas are restored.  Our IICRC certified technicians are available 24 hours a day to respond to water damage emergencies.
Problems Caused by Water Damage
The reason water damage is an emergency service is because wood, drywall, flooring, furniture, and other porous materials will absorb the water, allowing it to spread.  As the affected materials and furnishings take on more water, they may experience discoloration, warping, and rotting.  The weakening of wood and drywall can also lead to very serious structural damage.
The other major concern with water damage is the potential for mold growth.  Mold is most likely to grow in areas affected by moisture or water damage. It can appear as quickly as 48 hours after the damage has occurred.  Mold growth can worsen the structural damage and its presence is also a threat to your health.
Water Damage Restoration in Idaho Falls, ID – Watch Our Video:
For emergency water damage repair and restoration services in the Idaho Falls, ID area, contact RestorationMaster  at (208) 534-6919.
Water Damage Restoration Services
RestorationMaster IICRC certified professionals can provide effective water damage restoration services using the top equipment and water extraction procedures of the industry.  Our 3-phase water damage restoration and cleanup process guarantees the extraction of all water and moisture, as well as the repair of the damaged areas.
Our water damage restoration services consist of the following three phases:
Emergency Response: We will arrive on-site quickly to assess the damage and stop the water from spreading. There we will create a water damage restoration and cleanup plan based on our assessment and inform you of our plan and the steps it will entail.
Water extraction and Drying: We use advanced water cleaning and drying equipment to remove standing water and extract moisture from affected materials and furnishings. During this phase, we will also remove items that have been affected so they can be restored.
Reinstallation and Cleaning: We will return all items and furnishings that were moved during the water damage restoration process, and clean and restore the affected areas.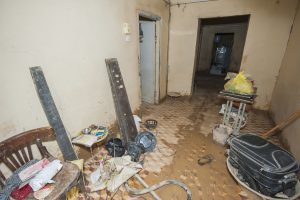 How to Respond if You Encounter Water Damage in Idaho Falls, ID
Call our professionals as soon as possible to limit the spread of the water and prevent mold growth.
Shut off the electricity and water supply immediately.
Put vulnerable objects, like paintings and photos, in a safe place.
Remove area rugs and other non-permanent floor coverings.
Keep your draperies off the floor.
Mop and blot dry to remove water.
Open doors and drawers to help the drying process.
What Not to Do if You Encounter Water Damage
Refrain from walking into rooms with floodwater until the electricity has been shut off.
Do not try to remove any permanent flooring.
Don't move books from their shelves.
Avoid using a regular vacuum cleaner to extract water, as they were not designed for such.
Attempting to clean up mold growth can make matters worse. Leave this to our professionals.
Contact Us 24/7 for Water Damage Restoration in Idaho Falls, ID
As soon as you realize there is a water damage issue on your property, contact RestorationMaster for our complete water damage cleanup and restoration services. Our technicians will first extract all the water and moisture.  Then we will repair the affected areas and everything back to their original condition.
We can be reached 24 hours a day at (208) 534-6919 for emergency water damage restoration and cleanup services in Idaho Falls, ID.
---
Related Water Damage Restoration and Cleanup Services
Water Damage Cleanup in Pocatello, ID