For those with a family member or loved one suffering from a hoarding disorder it can be difficult to know how to help a hoarder clean up.  What is Hoarding? Simply defined, hoarding is the extreme collecting of anything from trash and animals to clothing and toys. It makes no difference what the hoard is made up of, but to be considered true hoarding it has to be large enough that it disrupts the functionality of a home.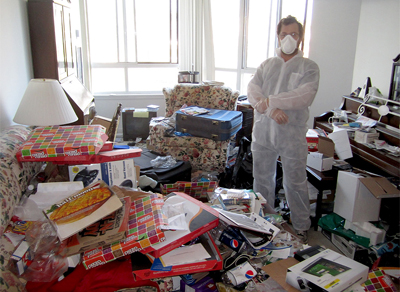 How to Help a Hoarder Clean up
A hoarder's overwhelming mess and clutter can be made even worse by the odor, dust and mold inside the hoarder's home. Because the hoarder still has an attachment to the things they own, it is extremely important to approach the hoarding situation with care and compassion.
Aftermath Offers a Comprehensive Suite of Hoarding Clean up Services
Upon arrival our certified staff of trained technicians will clean, sanitize and deodorize the hoarder's living space. Using specialized protective gear our hoarder clean up technicians will remove all biohazards including decomposing animals, bodily fluid and other hazardous materials from the home.
Your Qualified Hoarding Clean up Services Company
Don't trust your hoarding clean up to just anyone. Aftermath is a licensed, bonded and insured, professional hoarding clean up services company that operates in compliance with all OSHA, the Department of Transportation and the EPA rules and regulations.  Our hoarder clean up procedure includes:
Decontamination: Cleaning and scrubbing of blood, body parts and fluids.
Deodorization: Powerful deodorizers remove foul odors.
Proper disposal: We will dispose of all biohazards in proper containers and transport them to a proper disposal facility, and we will make every effort to preserve precious personal memorabilia such as photographs or keepsakes.
To speak with a live operator regarding hoarding clean up services, or if you need an immediate dispatch of an Aftermath hoarding cleanup crew, please
call (888) 696-7999.
---
Review by Patricia B., Edison, NJ
Aftermath Cleanup
Rating

"Thank you for making our lives easier at a very difficult time. You were compassionate and professional. We appreciate your hard work."
---
Review by Nicole H., Punxsutawney, PA
Aftermath Services
Rating

"Following an unbelievable tragedy, I was met by a compassionate on site supervisor, who proceeded to assume responsibility for which I was unprepared and unable emotionally to handle. Was notified about every step of process being taken, and all was done in a professional manner. Matt still keeps in touch concerning the repairs and our emotional state. Through this horrible tragedy, I felt comforted by his professional manner and felt that I had also made a friend. I would highly recommend Aftermath."