RestorationMaster, Spring TX
When you come across an area on your property with biohazard materials, the situation can be stressful — and even traumatic if it concerns a loved one. But it is necessary to remember how dangerous it is to come into contact with infected materials, because they contain various pathogens and bacteria.
Your local RestorationMaster partnerprovides professional trauma scene and biohazard cleaning services for Spring, TX and we are available for such services 24/7. As part of our services, our professionals respond to your calls immediately and work in a respectful manner when restoring and cleaning up your property.
Biohazard Cleanup – Sewage backups, Trauma and Crime Scene Cleaning Services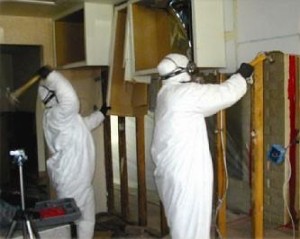 Once we get your call, our technicians respond by coming to your property within an hour to start the cleaning service. The technicians we employ have more than 100 years of experience combined, so you can trust us to remove all biohazards and restore your property.
The most important thing to remember in such a situation, however, is to remain away from the infected area so you can prevent serious health effects. It's smart to completely avoid the area until the restoration is finished.
Our team employs the use of various equipment and cleaners when conducting trauma scene cleaning services, such as:
Air purifiers
Deodorizers
High-grade cleaning disinfectants and cleaning supplies
Long reach handles and ladders
Personal protective equipment (PPE)
Waste removal solvents
The following are the most common scenarios involving biohazard materials:
Sewage backups: Sewer backups and natural flooding can result in a mess and should always be professionally handled. The water involved can be infested with millions of bacteria and pathogens that may result in serious diseases and infections. Regardless, your local RestorationMaster partner treats all cases as though they're emergencies. Such treatment guarantees we arrive immediately to extract water, dry out the structure, remove porous materials that have been soiled, and decontaminate hard surfaces.
Lead: A lot of older homes have lead, because it was a commonly used element for plumbing work until 1979, when its toxicity to humans was made known. If you suspect your property contains lead, our professionals will work to eliminate all cases of the element to ensure your home or building is in healthy living conditions.
Asbestos: Like lead, the use of asbestos in buildings wasn't banned by the EPA until 1979 so a lot of older homes may contain asbestos. Once you find asbestos in your property, you should immediately contact your local RestorationMaster partner for safe removal.
Violent accidents: Such events aren't ones we typically expect, but they do happen. If you encounter an accident at your home or building at any time, contact us immediately. Our professionals will disinfect the affected area and rid of the biohazard. We will also be compassionate in our approach to our provided service out of respect for grieving families.
Emergency Cleanup Services
Many situations can involve biohazards, but no matter the source, the important thing to remember is to stay away from all aforementioned situations. At your local RestorationMaster partner, we employ professionals who are HIPAA-compliant and properly licensed to provide biohazard and trauma scene cleaning services in a way that respects your privacy.
Your local RestorationMaster partner is available 24/7 at (281) 612-8739 for our professional biohazard and trauma scene cleaning services in Spring, TX.