When disaster strikes, Northeast Philadelphia residents can turn to ServiceMaster TEAM to help them with crime scene clean up including those due to homicide and suicide. Our crime scene clean up technicians work together with law enforcement officials and insurance companies to help victims and their families cope during this difficult time of crisis.

How to Cope in the Aftermath of a Crime Scene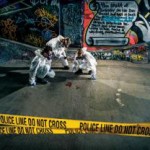 Crime scene clean up is different from other bio-recovery clean up efforts in that law enforcement is involved in the investigation, and evidence must be protected so that cross-contamination does not jeopardize the scene. Because of their gruesome nature, crime scenes are also more emotional than other biohazard clean up efforts.
Due to the potential harmful health consequences bodily fluid and blood borne pathogens pose to the public, conducting proper crime scene clean up as soon as possible is critically important.  Our certified technicians will arrive with cleaning tools, protective gear and remediation disposal materials and get to work right away.
Our crime scene cleanup procedure includes:
Decontamination: We clean and scrub all blood, body parts and fluids. We also remove any fingerprint dust associated with the crime scene that may be harmful to humans and pets.
Deodorization: Powerful deodorizers remove foul odors.
Proper disposal: We will dispose of all biohazards in proper containers and transport them to a proper disposal facility.
Continuous monitoring: Our quality control and communication plans set the standard in the crime scene clean up industry. Proper communication makes sure the job is done right.
Insurance assistance: We will work with your insurance carrier and law enforcement in the event an insurance claim can be made.
Family Assistance and Support: We will work with the victim's families and loved ones to find the support and assistance they need during this traumatic time.
Certified Crews: Our specialized crews adhere to all local, state and government regulations related to crime scene clean up.
Choose an Experienced and Reliable Crime Scene Clean up Company
With over 15 years of experience in the crime scene clean up industry, we are the only nationwide service provider.  By turning to ServiceMaster TEAM you are guaranteed quality crime scene clean up service.
Philadelphia residents can reach a live operator 24 hours a day, 7 days a week, and in most cases we can arrive at your location in a few hours.  If you need assistance cleaning up a crime scene in the Northeast Philadelphia, PA area, call us at (215) 399-4866. We will dispatch a team to your location.