Beyond Dri Restoration
From natural flooding to internal issues like appliance leaks, properties can suffer water damage in many ways. Because of the abundance of sources for water damage, it is tough to completely protect your home or business from such harm. But no matter what caused the water damage, do not wait to address the problem. The water will continue spreading throughout the property, causing damage and increasing the potential for mold. If the water is contained in a prompt manner, this helps limit the amount of damage done and decreases the likelihood for mold growth.
With complete water damage restoration services, Beyond Dri Restoration can help homes and businesses in New Bern, NC, and the surrounding communities that have suffered water damage. We will remove the excess water and moisture and effectively dry damaged materials by using specialized extraction and drying equipment. If the water damage has also triggered mold growth, then we can provide mold removal services and restore affected areas.
Damage Caused by Water and Flooding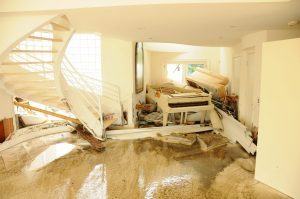 Homes and buildings can suffer significant damage if they are affected by excess water and flooding. Porous building materials and furnishings, such as drywall and carpeting, will take in the moisture, allowing it to spread to new areas of the property. Water can cause permanent damage to the carpet and furniture without prompt action, and affected drywall and wood can suffer severe structural harm.
Water damage creates the ideal conditions for mold growth, so it is common to find the fungus growing in affected areas. Mold needs moisture to thrive, making water-damaged materials an ideal breeding ground for mold. If mold does grow, then it will cause its own damage and present health risks to anyone exposed to it.
Water and Flood Restoration
The sooner we can address your property's water damage, the less damage there will be. There will also be a decreased risk for mold growth. Our technicians will promptly contain the water so that it cannot cause further harm. This will also save you money on restoration costs, so don't hesitate to reach out to us for help once you find water damage in your home or business. We will begin our services by assessing and documenting the harm, which helps with insurance claims and aids us in creating a restoration plan.
Effective water damage cleanup and restoration is completed in phases. First, all water and excess moisture needs to be removed. To thoroughly dry the affected areas, our professional technicians use specialized water extraction equipment, dehumidifiers, and other advanced drying equipment. This drying process and the repair work can take up to a couple days depending on how much damage was done. Once we finish the water mitigation work, our technicians will use moisture meters and thermal imaging cameras to check that your property is completely dry.
Within our professional water damage restoration services, the following can be expected:
Fast response time: We will quickly arrive at your home or business to contain the water and begin water extraction and drying. This will prove instrumental in preventing significant property damage and mold growth.
Water extraction: We remove standing water by using specialized water extraction equipment.
Drying equipment: We will locate moisture by using moisture detection devices and then use advanced industrial drying equipment to effectively dry damaged materials and areas.
Professional technicians: We employ professional technicians who are properly equipped, licensed, and trained to provide homes and businesses with quality water damage restoration services.
Call Beyond Dri Restoration for Water Damage Restoration
If not addressed in a prompt manner, then excess water and flooding can cause properties to sustain serious damage. Knowing this, call Beyond Dri Restoration as soon as possible if you find that your residential or commercial property in New Bern, NC, or the surrounding communities has suffered water or flood damage. We can be reached for our emergency water damage restoration services on a 24/7 basis by calling (910) 758-2090.
---
Recent Reviews
---
Review by

M.C.
Rating

"The crew did a great job. John was extremely helpful and knowledgeable. He explained the process in detail and made the experience seamless. He let us know what to do if we had any further issues and was very professional! Definitely recommend Beyond Dri!"
---
Review by

R.M.Y.
Rating

"Big John (John John) was the one that came . He explained everything that he had to do . I couldn't find any other help , but Big John came through for me . I was nervous about the damage to my home , and he calmed me down and made everything better . He's a mover and a shaker . He gets the job done . I give him an A+ . When I really got to know him , I realized that he's like family to me . He always assured me that if I needed anything-else to just call . I really do appreciate his help . I will be calling back if I need more help . Big John has made a forever customer out of me . God bless you Big John . Seriously , he explains everything before doing what needs to be done . KEEP UP THE GREAT WORK ."
---
Review by

L.T.
Rating

"John was extremely professional, knowledgeable and helpful with our claim. We were very concerned with how the process would go and he put us at ease by explaining all in detail and always patient and available to discuss when he had further questions. I highly recommend Beyond Dri Restoration."
---