Beyond Dri Restoration
On its own, flooding is a serious issue. But when the water involved in the flooding has been contaminated with sewage, there is even greater cause for concern. Any materials that absorb the sewage water also take in the waste materials which can lead to permanent damage. Commonly, sewage will make its way into a building due to a sewage backup or flood water that is contaminated prior to entering your property. Regardless of how it occurred, you need to contact a professional for cleaning help right away.
With complete sewage cleaning services, Beyond Dri Restoration can help homes and businesses in New Bern, NC, and the surrounding communities that have been affected by sewage water. We employ technicians who have the proper equipment and certification to remove sewage in a safe manner and to disinfect affected areas, which will eliminate the biohazards that could result in disease or infection.
Dangers of Sewage Backups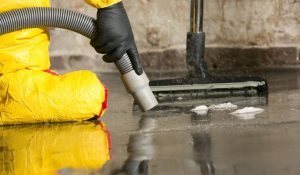 Due to the permanent damage it can cause to your property and the risks it presents to your health, sewage backups are serious issues. Drywall, flooring, wood, furnishings, and other porous materials absorb the water and the sewage's waste materials. Because of this, such items often sustain permanent damage. However, when you immediately reach out to our professional technicians for help, there's a chance that your damaged materials can be salvaged.
Sewage's greatest danger, though, is the harmful effect it can have on your health. Sewage can contain harmful microorganisms, such as bacteria and viruses, that can lead to disease or infection. If you have reason to believe the water affecting your property has been contaminated by sewage, then you and others need to stay away.
Sewage Backup Remediation
At Beyond Dri Restoration, our professional technicians have the equipment needed to effectively clean properties affected by a sewage backup. Furthermore, our services are provided in accordance with IICRC standards. Using specialized equipment, we make sure sewage water and raw sewage are all removed from the property. Afterwards, we will eliminate dangerous microorganisms that can cause infection or sickness by treating the areas and materials affected by the sewage.
With our sewage backup cleaning services, the following can be expected:
Removing sewage water and raw sewage
Removing materials that suffered irreversible damage
Cleaning and disinfecting areas and materials affected by the sewage
Restoring damaged areas and materials
Call Beyond Dri Restoration for Sewage Cleaning
To limit the amount of harm done and to protect people's health, sewage backups need to be addressed immediately. Beyond Dri Restoration's professional technicians are prepared to provide complete sewage backup cleaning services that will restore your property to a safe, clean environment yet again. Call (910) 758-2090, where we are available on a 24/7 basis, for the emergency sewage cleaning services we offer in New Bern, NC, and the neighboring areas.
---
Recent Reviews
---
Review by

M.C.
Rating

"The crew did a great job. John was extremely helpful and knowledgeable. He explained the process in detail and made the experience seamless. He let us know what to do if we had any further issues and was very professional! Definitely recommend Beyond Dri!"
---
Review by

R.M.Y.
Rating

"Big John (John John) was the one that came . He explained everything that he had to do . I couldn't find any other help , but Big John came through for me . I was nervous about the damage to my home , and he calmed me down and made everything better . He's a mover and a shaker . He gets the job done . I give him an A+ . When I really got to know him , I realized that he's like family to me . He always assured me that if I needed anything-else to just call . I really do appreciate his help . I will be calling back if I need more help . Big John has made a forever customer out of me . God bless you Big John . Seriously , he explains everything before doing what needs to be done . KEEP UP THE GREAT WORK ."
---
Review by

L.T.
Rating

"John was extremely professional, knowledgeable and helpful with our claim. We were very concerned with how the process would go and he put us at ease by explaining all in detail and always patient and available to discuss when he had further questions. I highly recommend Beyond Dri Restoration."
---