Beyond Dri Restoration
Maintaining a clean environment in your home or building has always been of importance. However, such cleanliness has become even more crucial due to the COVID-19 pandemic. Like other illnesses, COVID-19 can easily spread from person to person. However, surfaces and items that have been contaminated can also cause the disease to spread. With thorough cleaning and disinfection by professionals, homes and businesses can be effectively protected from COVID-19, the flu, the common cold, and other illnesses.
With complete disinfection and cleaning services, Beyond Dri Restoration can help homes and businesses in New Bern, NC, and the surrounding communities be protected against COVID-19. Our professional technicians will thoroughly treat your property to guarantee that the COVID-19 virus and other hazardous pathogens are removed from your home or business.
What is COVID-19?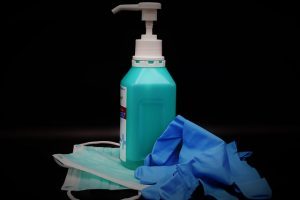 Also known as the coronavirus, COVID-19 is the respiratory illness that has brought about the current pandemic. The disease most easily spreads via respiratory droplets from person to person but if these droplets end up on a surface, it becomes contaminated and can cause the illness to spread upon contact. COVID-19's symptoms can take as few as 2 days or as many as 14 days following infection to appear. The primary symptoms are breathing issues, a fever, a dry cough, and loss of smell and taste. The disease's severity differs for each case. However, seniors, individuals with pre-existing conditions, and people with compromised immune systems are most prone to experiencing serious symptoms.
To learn more about COVID-19 and its symptoms, refer to the Coronavirus FAQ provided by the Centers for Disease Control (CDC).
COVID-19 Disinfection
When done effectively, disinfection and cleaning services have proven to remove hazardous pathogens and provide homes and businesses with effective protection against COVID-19 and other illnesses. Whether these services are conducted proactively or in response to a COVID-19 case, your property will be clean and protected.
We will clean your property in a thorough manner, eliminating pathogens and disinfecting afterward to ensure effective pathogen removal. We use EPA-registered disinfectants and disinfection methods that are proven effective regarding COVID-19 protection. Our technicians will treat every object and surface in your property, but we will also give extra attention to high-touch objects and areas. Knowing that every property is different, we work with the client to create an effective cleaning and disinfection plan.
With our cleaning and disinfection services, the following can be expected:
Proven disinfection methods: Using CDC-recommended disinfection techniques, we treat your property, paying extra attention to high-touch areas and objects. This includes things like computer equipment, countertops, door handles, desks, light switches, and bathroom fixtures.
EPA-registered products: We use EPA-registered disinfectants and cleaning products that are proven effective at removing the coronavirus and other hazardous pathogens.
Trained professionals: We will make sure that your property undergoes effective disinfection by using proper disinfection products and techniques and by following the correct protocols.
Call Beyond Dri Restoration for COVID Disinfection
Given the ongoing COVID-19 pandemic, homes and businesses must remain protected to help combat the virus's spread. Beyond Dri Restoration employs professional technicians who are properly equipped to provide thorough cleaning and disinfection that keeps residential and commercial properties protected against the coronavirus and other illnesses. For more information regarding our professional disinfection and cleaning services in New Bern, NC, and the surrounding communities, give us a call at (910) 758-2090.
---
Recent Reviews
---
Review by

M.C.
Rating

"The crew did a great job. John was extremely helpful and knowledgeable. He explained the process in detail and made the experience seamless. He let us know what to do if we had any further issues and was very professional! Definitely recommend Beyond Dri!"
---
Review by

R.M.Y.
Rating

"Big John (John John) was the one that came . He explained everything that he had to do . I couldn't find any other help , but Big John came through for me . I was nervous about the damage to my home , and he calmed me down and made everything better . He's a mover and a shaker . He gets the job done . I give him an A+ . When I really got to know him , I realized that he's like family to me . He always assured me that if I needed anything-else to just call . I really do appreciate his help . I will be calling back if I need more help . Big John has made a forever customer out of me . God bless you Big John . Seriously , he explains everything before doing what needs to be done . KEEP UP THE GREAT WORK ."
---
Review by

L.T.
Rating

"John was extremely professional, knowledgeable and helpful with our claim. We were very concerned with how the process would go and he put us at ease by explaining all in detail and always patient and available to discuss when he had further questions. I highly recommend Beyond Dri Restoration."
---