Beyond Dri Restoration
When mold grows indoors, it can cause property damage and also pose a threat to the health of any person exposed to it. Given the naturally constant presence of mold spores in the air, mold colonies can develop at any time. The spores just need to be in an environment that offers them both an organic food source and a moisture source. This explains why mold growth is common in the aftermath of water damage. If mold does grow in your home or business, then you must respond to it immediately. Otherwise, the fungus will spread, which worsens the damage and increases the likelihood for health problems.
With complete mold remediation services, Beyond Dri Restoration can help homes and businesses in New Bern, NC, and the surrounding communities that have been affected by mold. We will locate all cases of mold, effectively remove the fungus from your property, and restore the damage done. Additionally, our professional technicians can take care of the moisture source that triggered the mold growth.
Problems Caused by Mold Growth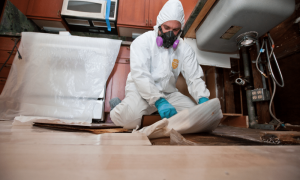 As long as the environment provides an organic food source and a moisture source, mold spores present in the area can create mold colonies. Common building materials, such as wood and drywall, contain cellulose, which is an organic material that mold uses as a primary food source. When mold grows on a surface, it is actually eating away at the material. So, the longer mold affects a surface, the more damage it will cause to the material. Affected items can be harmed so severely that their structure becomes compromised.
In addition to property damage, mold can also have adverse effects on your health. If people are exposed to mold, they can suffer from nasal congestion, headaches, coughing, skin irritation, itchy eyes and throat, and other allergic reactions. With prolonged exposure, health problems can be even worse, including respiratory infections.
Professional Mold Remediation
If you find mold growing in your residential or commercial property, then get in touch with Beyond Dri Restoration right away for our mold removal help. If you try to remove mold on your own, then it may actually aggravate the fungus, worsening the problem and increasing the potential for health concerns.
The technicians we employ have the proper licenses and equipment needed to locate and remove all cases of mold from your home or building. We start by containing the mold, which will prevent it from spreading elsewhere. From there, we uncover all cases of mold, including concealed ones, and effectively eliminate the fungus.
With our mold remediation services, the following steps can be expected:
Inspecting the property to find all cases of mold growth, including hidden mold
Isolating the damaged areas to stop mold from spreading
Removing the mold and any building materials that have suffered irreversible damage
Repairing damaged materials
Conducting a final inspection to guarantee thorough mold removal
Call Beyond Dri Restoration for Mold Removal
If you encounter mold in your home or business, do not hesitate to get help. Reach out to our mold remediation professionals promptly so that your property can be restored to its former state. We can be reached on a 24/7 basis for our professional mold removal services in New Bern, NC, and the surrounding communities by calling (910) 758-2090.
---
Recent Reviews
---
Review by

M.C.
Rating

"The crew did a great job. John was extremely helpful and knowledgeable. He explained the process in detail and made the experience seamless. He let us know what to do if we had any further issues and was very professional! Definitely recommend Beyond Dri!"
---
Review by

R.M.Y.
Rating

"Big John (John John) was the one that came . He explained everything that he had to do . I couldn't find any other help , but Big John came through for me . I was nervous about the damage to my home , and he calmed me down and made everything better . He's a mover and a shaker . He gets the job done . I give him an A+ . When I really got to know him , I realized that he's like family to me . He always assured me that if I needed anything-else to just call . I really do appreciate his help . I will be calling back if I need more help . Big John has made a forever customer out of me . God bless you Big John . Seriously , he explains everything before doing what needs to be done . KEEP UP THE GREAT WORK ."
---
Review by

L.T.
Rating

"John was extremely professional, knowledgeable and helpful with our claim. We were very concerned with how the process would go and he put us at ease by explaining all in detail and always patient and available to discuss when he had further questions. I highly recommend Beyond Dri Restoration."
---