Mold is one of the worst things a homeowner can find in their home because it leads to property damage and it can also increase the risk of adverse health effects.  It is wise to take action as soon as you discover mold to prevent it from spreading.  RestorationMaster provides mold remediation services to completely remove mold from your home in McAllen, TX.  We will remove the mold growth and repair or replace all affected surfaces within an area no bigger than 10 feet by 10 feet.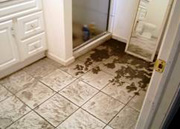 Mold commonly occurs as a symptom of water damage as it only requires the right temperature and moisture level to form.  Our mold remediation services begin with tests of the property to determine the extent of the water damage and how long the property has been exposed.  We then use the most advanced cleaning equipment in the industry to remove the mold and we make sure to contain the mold as we work so that it does not spread to unaffected areas.  The mold removal process includes:
Locating and repairing the source of the moisture
Cleaning or replacing surfaces with mold growth
Protection of our workers, clients and their property
Containing the mold to the contaminated area
It is important to take immediate action regarding mold removal because it could lead to a range of health issues such as allergies and infection as it damages your home.  Contact RestorationMaster for mold remediation in areas that are 10 feet by 10 feet or less.  We can be reached 24 hours a day at (956)622-7349.