If you have carpeting in your home or office, then you know how much the condition of the carpet can affect the appearance of your space.  You may also know how difficult it can be to keep your carpeting in good condition when contending with stains and debris buildup from foot traffic.  Regular foot traffic in commercial and residential settings causes dirt and debris to get pushed down into the carpet where it can cause discoloration and damage of the fibers.  Vacuum cleaning alone will not remove this buildup, and your carpet will continue to deteriorate until the debris is removed.
At RestorationMaster, we provide professional carpet cleaning services for homes and businesses in McAllen, TX.  Our technicians can effectively lift debris buildup and stains using the best cleaning products and methods of the industry, returning your carpet to its original color and condition.
Trusted Carpet Cleaning Services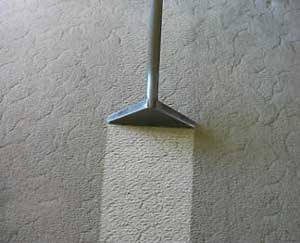 The technicians of RestorationMaster have been fully trained and certified to provide effective carpet cleaning services in commercial and residential settings.  With these services, we can effectively remove ground in dirt and debris, as well as stubborn stains and odors from all types of carpeting and area rugs.  The buildup of debris in the carpet happens gradually and eventually causes the carpet to look dull or worn out.  If you do not have your carpeting professionally cleaned, this debris buildup will eventually cause the carpet to deteriorate which will drastically shorten its life.
We use the most advanced cleaning equipment and methods to fully clean and restore your carpeting.  Our cleaning methods are not only effective for removing embedded debris, but also stubborn stains.  The complete carpet cleaning services we provide consist of the following steps:
Thorough vacuuming using a high-quality filter that removes debris from deep in the fibers.
Application of a preconditioning solution to loosen debris from the fibers.
We use agitation when applying the preconditioning solution to ensure quality results.
Thorough cleaning of the entire carpeted area using truck-mounted equipment to apply a hot water solution.
Carpet grooming to reduce matting and improve the appearance of the carpet pile.
Drying of the treated carpeting to help prevent odors from the damp carpet.
If the carpeting in your home or business in McAllen, TX is beginning to look dull, stained, or worn out, call the experts of RestorationMaster to schedule a carpet cleaning appointment.  We will carefully evaluate the condition of your carpet and form a cleaning plan to lift the debris buildup and stains.  You will be surprised by the new appearance of your carpeting and area rugs once we have completed the cleaning.  Give us a call at (956) 622-7349 to learn more about our carpet cleaning services.