When a home or building is damaged by flooding or fires, there is often a strong odor left behind that lingers even after the building has been restored.  RestorationMaster provides specialized deodorization services to homes and businesses in McAllen, TX to completely remove residual odors.  Our technicians are highly trained in several effective methods of odor removal such as absorption technology, Nano carbon technology, hydroxyl technology, and ozone technology.  We offer the following deodorization services: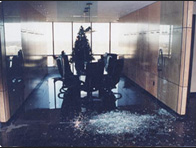 Pet Odor Removal
Dead Animal Odor
Undetected Death Scene Odor
Ozone Deodorization
Hydroxyl Deodorization
Thermal Fogging
Our odor removal methods consist of several steps to completely eliminate the odor and make sure it does not come back.  The deodorization process includes:
Removing the odor source
Treating contaminated materials and surfaces
Treating dead air spaces
Air washing
Sealing of porous surfaces
Evaluation and documentation of odor remediation
RestorationMaster can effectively remove strong, unpleasant odors caused by the following sources:
Fire and Smoke Damage Remediation: We use cleaning products that eliminate odors from smoke and fire more effectively than ozone or carbon deodorization.
Water Damage Remediation: Water damage often results in mold or mildew growth which produces a musty odor.  We can remove this odor and improve the air quality of your home.
Biological Based Odor Elimination: We can safely remove decomposition odors and other odors related to crime scenes or biohazard cleanup.
If your home or building in McAllen, TX has a strong, pungent odor left behind from a fire, flood, or other disaster, contact RestorationMaster at (956)622-7349 for our odor removal services.  Our operators are standing by 24 hours a day.