Mold is more than just a nuisance; it will consume any organic material with which it comes into contact. It can also cause a variety of health problems, including severe allergies and breathing issues. But mold is also derived from untreated water damage, such as flooding, pipe burst or leak, or even malfunctioning appliance. But at all costs, it is important to call for remediation services right away to prevent it from spreading.
ServiceMaster Restoration is available in Austin, TX to provide both residential and commercial properties with professional mold removal services. Our technicians are both licensed and experienced to remove it efficiently and effectively and even prevent it from returning in the future.
Mold Damage Restoration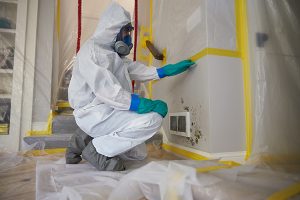 When finding mold for the first time, it's crucial to call us for remediation services. This is because the fungus won't go away on its own; it will consume the structure, devouring organic materials like wood, insulation, and drywall, even to the point of collapse.
While this is a problem, it's important not to try to remove it yourself. This is because it can cause severe health issues from the mold spores. Home remedies also won't be enough to remove the fungus, thus it requires the use of professional products and equipment to remove it safely and effectively. Simply give ServiceMaster Restoration by Century a call and we will handle the problem for you.
Mold Cleanup – Check Out Our Video:
For mold remediation services in the Austin, TX area, call ServiceMaster Restoration by Century at (512) 765-9630.
Our Process
Each of our specialists is licensed, trained, and experienced to use the proper equipment to prevent the mold from spreading. We will also conduct a full inspection of the property to find each case and eliminate it at its source.
Our mold removal process consists of the following steps:
Locating all mold growth
Full mold remediation
Repair of the damaged structure
Odor removal
Final inspection
While mold can start and spread easily after water damage, the professionals at ServiceMaster Restoration by Century can provide a free estimate that will include all aspects of the mold remediation service and will ensure it won't return in the future. We will also contain the damage within the affected area to prevent additional time and money spent during the service.
Get a Free Estimate
Give ServiceMaster Restoration by Century a call at (512) 765-9630 in Austin, TX for mold remediation services. We are licensed, trained, and experienced.
Related Mold Removal Services
Mold Remediation in Pearland, TX
Mold Removal in Georgetown, TX
Mold Damage Cleanup in Magnolia, TX
Mold Damage Restoration in Round Rock, TX
---
Recent Reviews
Review by

A.D.
Rating

"Your attention to detail. Appreciate your customer service and promptness in getting someone out to my home."
---
Review by

B.T.C.T.
Rating

"PROFESSIONAL, COURTEOUS, QUICK, NEAT AND KEPT US INFOR. WE WERE MED AS TO ALL ASPECTS OF THE PROJECTVERY SATISFIED."
---
Review by

J.J.
Rating

"Incredibly fast response!"