Best Option Restoration (B.O.R.) of Tri-State 
Mold growth can occur any time mold spores find a surface that provides them with a source of food and moisture.  Once mold growth appears, it is a threat to cause serious damage because the mold eats away at the affected materials and can spread to new areas of the property.  There is also a risk of experiencing health effects from mold exposure.  The longer you wait to address a mold issue, the more likely you will experience serious structural damage or negative health effects on your property.
At B.O.R. of Tri-State, we provide complete mold remediation services in Newburgh, NY, to help affected homes and businesses.  Our technicians are trained and certified to safely remove mold growth using the right equipment and chemical products.  We will help protect your property and your family with complete removal and help prevent the mold from returning.
Signs of Mold Growth
Some cases of mold growth are easy to spot, but in many cases, the mold growth may be hidden behind a wall or ceiling.  However, there are signs to look out for to tell if you have hidden mold.  These signs include wet or bubbling drywall, musty odors, wet or peeling wallpaper, and the sudden emergence of allergic reactions among those within the property.
While mold can cause serious property damage, the threat to your health may be a bigger concern.  Exposure to mold can cause allergic reactions such as nasal congestion, sore throat, trouble breathing, chest tightness, headaches, and skin and eye irritation.  Mold exposure can also irritate asthma and cause more serious conditions like respiratory infections.
Watch RestorationMaster Video to learn more about Mold Removal in Newburgh, NY
You can reach the professionals of B.O.R. of Tri-State Restoration any time by calling (973) 306-0963 for mold remediation & cleanup in Newburgh, NY, and the surrounding areas.
Finding the Mold Source
Mold growth is most likely to occur when there is a source of moisture, which means that the cause of the moisture needs to be located and fixed.  Removing the mold will not be as effective without fixing the moisture source because the mold growth will likely return.
Our technicians at B.O.R. of Tri-State start by finding and fixing the source of the moisture and assessing the water and mold damage that occurred as a result.  We will then form a remediation plan to restore the damage to your property.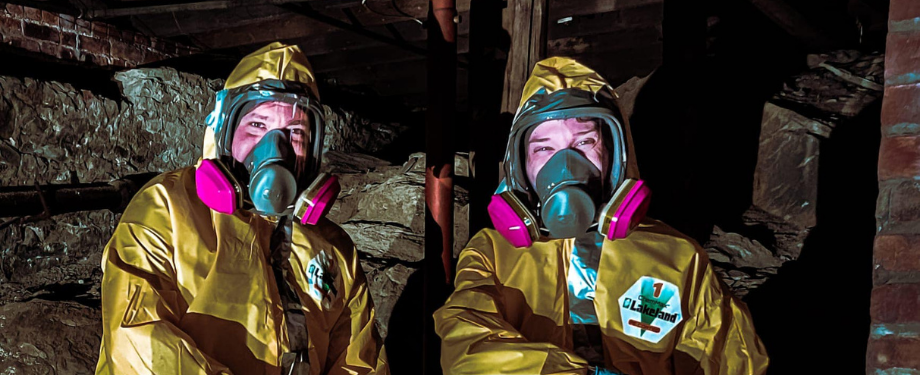 Mold Inspection
Before contacting Best Option Restoration, you need to contact a mold inspector. They use state-of-the-art equipment to ensure that the affected area is thoroughly tested. A visual inspection will be conducted and if necessary samples are taken and sent to an independent lab for mold testing. When you receive your results, they provide you with a copy of the same report so you have a second opinion.
Mold Testing
Completed samples are analyzed by an independent accredited lab that has been a leader in mold testing. The lab provides science-based data so you can make informed decisions on mold remediation. Mold Testing is necessary when mold activity is suspected but not visually seen. This also prevents a conflict of interest as our mold inspector has scientific evidence to support the conclusion made. After finishing the mold testing process, you can call Best Option Restoration to proceed with mold removal services.
Professional Mold Remediation
We provide quality mold inspection and mold removal services at affordable prices using thorough, documented procedures. We understand the health implication associated with mold growth and therefore work diligently to ensure that your establishment is remediated to a normal level of fungal activity. Our work is guaranteed with a warranty for mold remediation services provided.
Mold Preemptive Method
Preventing abnormal mold growth is the ultimate goal of Best Option Restoration. We utilize detailed planning and procedures to ensure that necessary steps are taken to prevent or minimize the possibility of abnormal mold growth. These steps include waterproofing options and the installation and/or repairs of sub pumps and french drains.
Residential Mold Remediation
Residential mold remediation is the process of removing mold and its substances from a home. Mold spores can be found in every house, but the actual problem begins when they're present in high quantities. When mold gets out of control, it spreads rapidly and makes breathing difficult. It also poses major health risks to anyone living in close proximity to it. Best Option Restoration mold remediation service has the experience needed to get rid of your mold problem without causing further damage to your home.
Commercial Mold Remediation
We specialize in any property in need of commercial mold remediation. Our certified technicians provide air duct mold removal, commercial property managers, and property maintenance. We also work with hotels, schools, and churches. Our expertise removes moisture from all parts of your property including the air ducts that circulate throughout.
Call Us for Professional Mold Remediation in Newburgh, NY
We can provide complete mold removal from homes and businesses using advanced techniques, equipment, and cleaning products.  Our technicians will track down the source of the mold and find and remove all mold growth from your property.  All affected areas will be isolated to prevent the spread of the mold, and we will remove or restore the affected materials.
Our professionals at B.O.R. of Tri-State want to protect the health of your family as well as your home.  Make sure you call us right away for our mold remediation services if you have discovered mold on your property.  We will effectively remove all mold growth while following AIHA, CDC, and EPA standards. Call (973) 306-0963 for professional mold remediation services in Newburgh, NY.
---
Related Mold Remediation Services:
Mold Removal Team in Middletown, NY
Mold MitigationProfessionals  in Ramsey, NJ
Mold Abatement Technicians in Mahwah, NJ
Mold Cleanup Specialists in Bergen County, NJ
---
Related Mold Removal Blogs
Time to get rid of that mold and mildew once and for all! These are the top FAQ about mold mildew clean up. Mold Mildew Cleanup FAQ. How to clean up Mold? How much does mold remediation cost? How to prevent mold? Do you have a mold problem?
This time we are offering you some helpful tips in case you are dealing with mold. Take into consideration that if you put off the mold removal for too long, severe damages may occur. Do not underestimate the mold. You may be busy with work and family, but remember that you have to deal with mold on time. You should hire professional mold removal services.
Here are the steps to prevent mold growing in your kitchen. Best practices are to reduce the moisture of your home and keep it dry and clean.
---
Recent Reviews
---
Review by Norwood Christian Church
Cleaning
Rating

"Had a great experience. they came right away when we needed them,very professional,started right away,and worked quickly to get the job done.Beautiful work!!! Vert happy."
---
Review by Roxana Escobar
Cleaning
Rating

"We contacted B.O.R. to help us with Mold that we discovered in our basement bathroom. Nicole got back to me the same day and arranged for the team to come onsite in order to assess the situation and provide an estimate by EOD. Once I agreed to the estimate, they scheduled my work within several days. I really appreciated the team's constant communication, from overall mold remediation knowledge to providing regular updates each day they were performing the work. The team did an exceptional job treating the mold and even identified a major area that was hidden behind one of the walls. I was also very pleased with the demolition work they performed. I would use them again without hesitation if needed and would recommend them to anyone."
---
Review by Tosh Grebenik
Cleaning
Rating

"I had a bad experience with a prior company and ended up finding these guys online. We found some mold under siding on the back of our house and needed to get it treated. They were able to come to my house and evaluate the problem in very little time. Their estimate was even under the other company's and they could do it sooner. Excellent find and I highly recommend! (I even got a thank you note at the end, thanks Mike!)"
---
See All Reviews