RestorationMaster
Drywall in your home should always be taken care of. You should not ignore any damage or blemishes as this can be bad for the appearance of the home. It is easy for drywall to become damaged due to holes from nail pops, accidents, and even the home settling which can affect the seams. Any major water issues in your home can also damage the drywall. Holes and water damage are the biggest culprits when it comes to structural damage to your home. This type of damage should always be fixed by professionals.
RestorationMaster offers a full range of drywall repair services in Elgin, IL for homes and businesses. No matter what type of damage, we can repair the drywall and restore the area. You can count on high-quality work, and we can take care of most jobs in just one visit.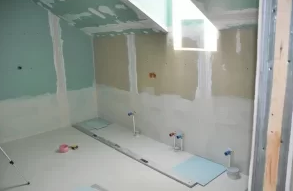 Types of Drywall Damage
Drywall is important for your home or business, and it is bound to get damaged. Damage to drywall may occur due to holes, cracks, and even water stains that can affect the structural integrity of the property. There can also be major issues with drywall if it has not been installed properly or if the home has settled.
Your drywall damage should always be fixed by professionals. Our professionals will make sure to do quality repairs to your drywall, plaster, and sheetrock walls and ceilings. We can take care of small and large repairs, so do not hesitate to call us to get your drywall fixed.
Drywall Repair Services in Elgin, IL
RestorationMaster focuses on drywall repairs for homes and businesses in Elgin, IL, and the surrounding areas. Our technicians are highly trained and ready to help you repair all types of damage to your drywall.
We will fix the following drywall issues:
Holes in the wall
Restoration after water damage
Bad seams
Popping of nails
Issues due to house settlement
Repairs to popcorn ceilings
Painting
Matching the surface to get it ready for painting
Are you facing drywall damage at your home or business? Call RestorationMaster today and check out our drywall repair services. We will react quickly and get the damage repaired so your drywall can look great.
Call RestorationMaster today at (630) 755-6686 for drywall repairs in Elgin, IL.
---
Related Drywall Repair Services: