There are few sights that are more unsettling to a homeowner than the sight of mold growth as it can cause damage to your property and contributes to allergies or infection.  It is important to remove mold as soon as you discover it and RestorationMaster provides mold remediation services to remove mold growth from homes and businesses in Harlingen, TX.  Our trained technicians can remove the mold and repair or replace the affected surfaces but we only provide mold remediation for areas that are no bigger than 10 feet by 10 feet.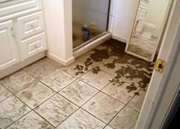 Mold growth usually only occurs as a result of water damage as moisture is necessary for mold spores to grow.  We begin our mold remediation services by testing the property to determine the extent and length of time of the water damage.  After these initial tests, we remove all mold growth using the most advanced cleaning products of the industry and make sure to contain the mold as we work to protect unaffected areas.  The mold remediation services we offer include:
Location and repair of the moisture source
Cleaning or replacement of affected surfaces
Protection of workers, clients, and their property
Containment of the mold to the affected area
Not only does mold cause damage to the surfaces that it grows on, but it also contributes to health problems such as allergies and infections to those that are exposed for long periods.  Do not hesitate to contact RestorationMaster for complete mold remediation as soon as you discover mold in your home or building in Harlingen, TX.  Call us anytime at (956)622-7349 if you need mold remediation for a small area.