(956) 622-7349
There are many people throughout the United States that struggle with hoarding and usually a loved one or family member assumes the responsibility of helping a hoarder clean out their home.  Hoarding is defined as the extreme collection of anything which can range from personal items and junk to trash and even animals and when the hoard becomes too large, it can create a dangerous situation within the home.  RestorationMaster provides hoarder cleaning services to help the friends and family members of those that hoard clean out their homes in Harlingen, TX and restore them to a livable condition.
Hoarder Cleanup for Harlingen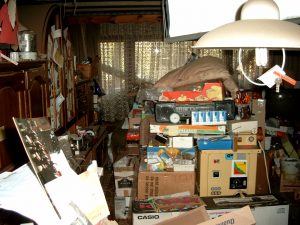 The staff of RestorationMaster has experience with hoarder cleaning jobs and we understand that hoarding is a sensitive issue so we approach each project with a sense of compassion.  Each of our technicians has been specially trained to provide effective hoarder cleaning services which consist of removal of the hoard followed by cleaning, sanitization, and deodorization of the home.  We are also certified to safely remove any biohazard materials such as mold, mildew, bodily fluids, and decomposed animals.
Our staff is licensed, certified, bonded, and insured to work on hoarder cleanup projects and we work in compliance with the rules and regulations of OSHA, the Department of Transportation, and the EPA.  Every hoarder cleaning project we undertake includes:
Decontamination: The entire area is decontaminated as soon as the soon as the hoard is completely removed.
Deodorization: Strong odors are removed with powerful deodorizers.
Proper Disposal: Biohazard materials are transported to a licensed facility for proper disposal and we save important personal items and keepsakes
If you have a friend or family member that struggles with hoarding issues and would like to help them clean out their home, contact RestorationMaster for our hoarder cleaning services in Harlingen, TX.  We are dedicated to restoring homes to a safe, livable condition and we approach each hoarding job with sensitivity and compassion.  Call us at (956)622-7349 anytime for more information about our hoarder cleaning services.