RestorationMaster Cleaning & Restoration
There are a wide variety of biohazard materials that act as a safety risk if you encounter them on your property. Such materials include sewage, mold, various chemicals, and more. If a trauma scene, such as a major injury or death, occurred on the property, you may also encounter blood and other bodily fluids. Avoid any biohazard materials and do not attempt to remove them yourself. Biohazard materials can spread disease and infection through harmful microorganisms and toxins. Instead of exposing yourself to risk, call a professional biohazard and trauma cleanup service to remove all harmful materials from the property.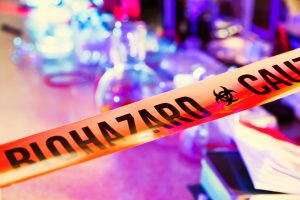 RestorationMaster provides biohazard cleanup services to safely remove all kinds of biohazard materials from homes and commercial buildings in Rexburg, ID. Our technicians are equipped with advanced equipment and cleaning products. This allows them to properly remove dangerous materials, and clean and restore affected areas. In sensitive instances like serious injury or death, our technicians will engage in respectful and professional behavior while they diligently clean up the scene.
Dangers of Biohazardous Materials in Rexburg, ID
Harmful toxins, such as viruses and bacteria, are commonly found in biohazard materials and interaction with them can increase your risk for infection. Blood, sewage, chemicals, and other dangerous materials should not be handled without proper methods and equipment. Do not attempt to clean up biohazardous materials yourself and risk spreading infection or disease. Call a professional to remove biohazard and trauma scene materials from your property.
Finding a Trauma Scene in Rexburg, ID
If you discover a trauma scene, such as a violent crime or serious accident, on your property, leave the area right away and call law enforcement. An incident involving serious injury or death can be dangerous for witnesses, so your own safety is a priority. Trauma scenes often have blood and bodily fluids present, so avoid contact with these materials as you leave the scene. Once emergency personnel arrives on the scene, call a licensed professional to safely remove biohazard materials.
Our trained professionals know how to safely remove the blood and bodily fluids and reduce the risk of spreading disease and infection while doing so. We also use advanced equipment and cleaning products to clean and disinfect the area. And to keep ourselves safe, we use personal protective equipment (PPE).
RestorationMaster Biohazard and Trauma Cleaning Services Include:
Removing biohazard materials from the scene
Transporting biohazard materials to a licensed facility for disposal
Cleaning and disinfecting of the scene
Complying with local and state regulations
Cooperation with law enforcement to assist in their investigation
We understand that it is traumatic to discover a major accident, injury, or death on your property. That's why our technicians will be respectful while quickly and discreetly restoring the scene.
Do not attempt to clean up biohazard materials on your property. Avoid the area and call our licensed professionals so we can safely remove all dangerous materials, and clean and disinfect the scene.
Contact Us for Biohazard and Trauma Scene Cleanup in Rexburg, ID
Contact RestorationMaster at (208) 534-6919 for 24/7 biohazard and trauma cleanup services in Rexburg, ID.
---
Related Biohazard and Trauma Cleanup Services
Idaho Falls, ID – Biohazard Cleaning Services
Pocatello, ID – Biohazard and Trauma Cleanup