Every day, most Americans spend at least a few minutes hanging over their bathroom sink as they get ready for the day and this consistent use can cause it to wear out or sustain minor damages such as scratches or chips.  If a bathroom sink becomes worn out or discolored, it can be restored with sink refinishing services.  RestorationMaster provides sink refinishing services to homes in Hilton Head, SC as well as eastern Georgia and southeast South Carolina.  We can restore the original look of your sink and we have finishes available in several colors to create a new look.
Sink Refinishing Process
The staff of RestorationMaster can refinish ceramic kitchen and bathroom sinks to give them a like new appearance.  The most common reasons a sink may need refinishing include chips and scratches to the surface as well as dull or faded color.  We start by repairing the surface damage to the sink and then add a durable finish to either enhance its existing color or update it with a new color.  The finish that we use will add up to 15 years to the life of your sink.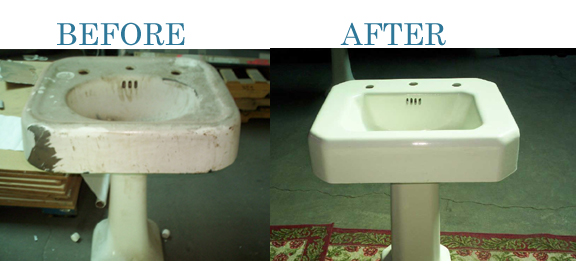 Benefits of Sink Refinishing Services
The main benefit of our sink refinishing service is that it will save you the cost and hassle of replacing your bathroom sink.  Replacing a bathroom sink can be a messy, complicated job especially if the sink is part of a vanity.  Refinishing the sink costs about half as much as sink replacement and it can be done in a fraction of the time.  The other major benefit of sink refinishing services is that you can change the color of your sink without replacing it.  There are several colors and textures available for sink refinishing that can either restore the original color or update the color to better match the surrounding décor.
If your kitchen or bathroom sink is worn out or has sustained minor surface damage, do not replace it; call RestorationMaster for sink refinishing services.  We provide sink refinishing services for homes in Hilton Head, SC as well as eastern Georgia and southeast South Carolina that are more cost efficient than sink replacement. Call to learn more about our specific sink refinishing options or to request a free estimate.