Reliable Roofing
Few features of a home or building are more important than the roof which keeps everything within protected from the wind, rain, cold, and other natural elements.  The integrity of the roof is crucial when it comes to effectively protecting the building.  Therefore, any type of damage to the roof must be addressed immediately.
The roof of a home or commercial building may sustain damage from severe weather such as strong wind or hail, animals, or falling debris like tree branches.  Any damage to the shingles, flashing, or other elements of the roof can lead to a leak which will result in serious structural damage.  The longer roof damage is ignored, the worse the damage will get.
Professional Roof Repair
If you notice any damage to the roof of your commercial building, contact Reliable Roofing immediately for our roof repair services.  We are a licensed and bonded contractor with highly trained technicians who can repair any type of damage that can occur to a commercial roof.  As a member of the National Roofing Contractors Association (NRCA), you can expect us to provide excellent, cost-effective repair work using the best products of the industry.  We also cover our work with a warranty and an insurance policy worth up to $10 million.
Roof Repair Services You Can Trust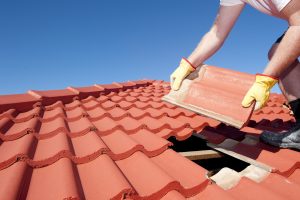 At Reliable Roofing, our technicians are prepared to handle any type of roof repair including minor damage as well as full roof restoration.  The products that we use for our roof repair services are from the most respected manufacturers in the roofing industry.  We understand the bigger problems that can arise from roof damage, which is why we always act on customer calls within 24 hours.
Our complete roof repair services include the following:
Hail and Storm Damage Repair: Extreme weather conditions are a common cause of roof damage and this type of damage can quickly lead to larger issues. Hail, strong wind, snow, and ice can damage various elements of the roof which makes the building vulnerable to leaks.  We can locate and repair damage caused by hail and other adverse weather conditions.
Shingle Repair and Replacement: The shingles of a roof become damaged more often than other elements because they are the first line of defense against weather and animals. Our technicians will repair or replace damaged shingles to restore the integrity of your roof.
Leak Repair and Prevention: A leak in the roof can lead to serious issues as the moisture slowly gets absorbed into the surrounding building materials over time. We can effectively locate and repair leaks in your roof, and help you take steps to prevent future roof leaks.
Commercial Roof Repair: As commercial roofing experts, we are fully prepared to repair any type of damage sustained by the roof of a commercial building.
Roof Restoration: Every type of roof eventually runs through its lifespan and loses its integrity due to general wear and tear. We can restore any type of commercial roof to renew its strength and integrity.
New and Existing Penetration Tie-Ins: If the tie-ins around the penetrating objects on your roof become damaged, you could end up with leaking issues. Our technicians can repair or replace the tie-ins on your roof.
Warranty Repair Work: Our roof repair services are covered by a manufacturer's warranty.
No roof damage should be ignored as even minor issues can develop into widespread, expensive problems.  If there is an issue with the roof of your commercial building, call Reliable Roofing at (815) 981-9801 to resolve the issue with our roof repair services.  You can expect our skilled technicians to respond within 24 hours of your initial call.
Related Services