Reliable Roofing
When most people think of the protection that a roof provides, they typically associate this with a home.  Yet commercial roofing is just as important for providing protection for commercial buildings that house businesses, schools, and other institutions.  There are many different types of commercial roofing in use depending on the building type, and they are typically built to last for decades.
However, even though commercial roofing is durable, it is still vulnerable to damage, leaks, and regular wear and tear.  It is important to have your commercial roof serviced by a roofing contractor that can provide repairs and maintenance so that your roof can effectively protect the people and assets within.
Trusted Commercial Roofing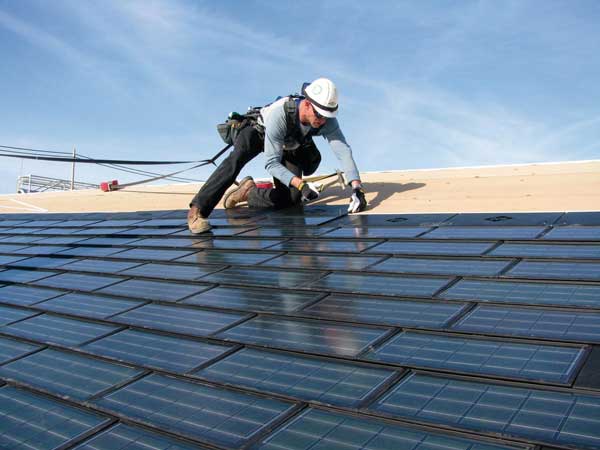 Reliable Roofing is a professional roofing contractor that provides full commercial roofing repair and maintenance services for all types of commercial buildings.  Our technicians are licensed and bonded to work on various types of commercial roofing and our insurance policy covers us up to $10 million.  We use the best equipment and products of the roofing industry and pay close attention to detail when providing repairs, maintenance, or installation.  We guarantee that we will use the best available products from the roofing industry's most trusted manufacturers.
Reliable Roofing is a member of the National Roofing Contractors Association (NRCA), meaning that you can expect our technicians to provide quality services to keep your commercial roof in good repair.
Our commercial roofing services cover the following:
Warehouses
Office buildings
Churches
Restaurants
Corner and retail stores
Schools and universities
Hospitals and healthcare facilities
Complete Commercial Roofing Services
We understand that any damage to a commercial roof can lead to bigger issues that will threaten the safety of your employees, customers, students, or patients.  We always respond to customer requests within 24 hours to ensure that any issues are promptly addressed.
Our complete commercial roofing services include the following:
Commercial Roof Repair: Commercial roofing is always vulnerable to damage from various causes including adverse weather and animals. We can provide any repairs needed to fix damage or leaks and keep your roof in good condition.
Commercial Roof Replacement: We provide complete replacement services to replace your damaged or worn out roof with a new one.
Installation: We can effectively install different types of commercial roofing for new and existing buildings.
Roof Construction: If your roof is heavily damaged, we can provide construction services to rebuild the damage.
Commercial Roof Maintenance: Our maintenance services for commercial roofing will help prevent leaks, damage, and wear and tear that can shorten the life of the roof.
Sheet Metal Roofing: The strength and energy efficiency of sheet metal roofing has made it a popular option for commercial buildings. Our technicians can provide installation, repair, and maintenance services for sheet metal roofing.
Repair and Replacement of Roofing Components: If a component of your roof has become damaged, we will either repair the part or replace it.
Wide Selection of Roofing Products: We have formed professional relationships with the top manufacturers of the roofing industry, so we use only the best roofing products available.
Commercial roofing is more durable than residential roofing, but without general maintenance and repairs, it can wear out prematurely and need to be replaced.
Contact Reliable Roofing at (815) 981-9801 if you would like the roof of your business or commercial building serviced by professionals.  We provide complete commercial roofing services from maintenance and repairs to installation and replacement.
Related Services
Professional Commercial Roofing in Crystal Lake, IL