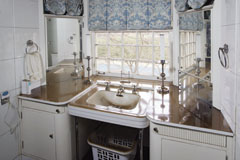 Cleaning fire damage requires special skills in everything from taking care of smoke and water damage, to repairing the structural integrity of your property to cleaning personal items. Our fire damage cleanup specialists know how to handle all these tasks.
Their goal is to help restore your life to normal as soon as possible by beginning fire damage repair within three hours of your initial call. They know the importance of starting fire damage cleanup services as soon as possible to limit further damage from the after effects of a fire.
Our technicians will work with you throughout the fire damage cleanup to help you make the best decisions about repair, restoration or replacement of your property. Our fire damage repair starts with a structural evaluation of major components of your residence, such as the roof, walls, flooring and insulation. Removing smoke damage and repairing water damage from putting out the fire are also a key part of cleaning fire damage. Once our experts determine which items are reusable, they know exactly which fire damage repair methods will be the most effective in making the items usable again.
We will also coordinate our fire damage cleanup services with your insurance company, to help reduce stress.
Use the link below or the forms on the right to find a fire damage repair specialist in your area.
Fire & Smoke Damage Repair Services Indiana – find a local provider
The services you'll need from a fire damage cleanup service depend on the extent of the fire damage. Quick action after a fire can reduce the cost of cleaning the fire damage. The Indiana fire restoration service providers are ready to take care of smoke and fire damage 24/7, every day of the year. They can typically schedule emergency fire restoration services within three hours of your initial call, and work with you throughout the fire cleanup to help you make the best decisions about repair, restoration or replacement of your property. Read more…
Fire & Smoke Damage Repair Services Wisconsin – find a local provider
Quick action after a fire can help restore your life to normal. The Wisconsin fire restoration service providers are ready to take care of smoke and fire damage 24/7, every day of the year. They can typically schedule emergency fire restoration services within three hours of your initial call, and work with you throughout the fire cleanup to help you make the best decisions about repair, restoration or replacement of your property. Read more…
Fire & Smoke Damage Repair Services Virginia – find a local provider
The first step in fire and smoke damage removal is assessing the structural integrity of the property. A professional smoke & fire damage restoration service is trained to recognize and handle a wide variety of health and safety hazards. The Virginia fire restoration service providers are ready to take care of smoke and fire damage 24/7, every day of the year. They can typically schedule emergency fire restoration services within three hours of your initial call, and work with you throughout the fire cleanup to help you make the best decisions about repair, restoration or replacement of your property. Read more…
Fire & Smoke Damage Repair Services Maryland
Fire damage restoration is complicated by the effects of smoke. Call RestorationMaster fire restoration professionals to mitigate the extent of your fire and smoke damage. Quick action after a fire can help restore your life to normal. The Maryland fire restoration service providers are ready to take care of smoke and fire damage 24/7, every day of the year. They can typically schedule emergency fire restoration services within three hours of your initial call, and work with you throughout the fire cleanup to help you make the best decisions about repair, smoke restoration or replacement of your property. Read more…