RestorationMaster
(888) 915-7197
Choosing a Restoration Service
In order to select a qualified restoration provider, use the disaster pre-loss planning guide proactively rather than reactively. As you will quickly be faced with numerous decisions when a disaster strikes, you will want to be properly prepared. By following the steps provided in this guide to select the proper vendor, you will want to make sure that the vendor has the necessary information about your facilities to allow them to work most efficiently and effectively in a time of catastrophe. This will ultimately prevent extra time taken and costs spent that are associated with disaster restoration.
How to Choose
When choosing a qualified vendor, there are two primary methods. The first and most common is to seek services after a natural disaster. This is because the customer is not aware that these services even exist; therefore, they do not think to search for these beforehand. Finally, they find themselves rushing to make the wrong decisions and create additional delays in the recovery process.
As the owner of the home or building, the victim is ultimately responsible for choosing the restoration vendor. While they will typically rely on the advice of their insurance provider, they will not be proactive in finding the proper restoration provider for their property. When doing this, several vendors may be called and asked to send bids. When they have all been sent, the decision is usually made based on the price; however, the reader must be aware to compare each bid closely. Generally, if the bids are relatively similar, the services will be similar as well. But a wide range of prices is an indicator that the vendors will differ in the extent of damage, or there was a miscalculation made by a vendor.
The second method of finding a qualified restoration service is "pre-selection." RestorationMaster highly recommends to have a member of the company choose a professional restoration company that is guaranteed to respond immediately and restore all areas of the property both quickly and effectively. Over the years, this method has been overlooked many times when developing an emergency disaster restoration plan. However, when this step is taken, it can have a substantial effect on the time it to recover from a disaster as the restoration process can start right away.
Service Relationships
As the owner of the property, you are ultimately responsible for choosing the service. While the insurance provider will want you to choose a third party, for legal reasons, the overall agreement must be made by the property owner and restoration services, such as RestorationMaster.
This way the restoration service will draft the agreement and have it approved by the chosen representative to sign it, authorizing them to initiate the service. This agreement is considered a contract or covenant between the two parties in which they both agree to follow through with their obligations. The restoration services should state in writing the following: the cost, the duration of the services, and how they will perform the procedures. For more information about the services of RestorationMaster, please visit our pages for disaster restoration, fire and smoke damage restoration, or water damage restoration. In return, you and your insurance provider, if involved, are agreeing to compensate them for all services performed.
Finally, the vendor is responsible for performing all services to the client, and must report all progress, submitting the required documentation. It is important to allow open and clear communication between the restoration provider and the insurance company claim representative in order to keep all parties updated of the progress. If a large loss has occurred, it could be necessary to have "process payments." Each restoration provider, including RestorationMaster, will have their own procedures and policies in regards to this matter as it should be made clear to the insurance provider and disaster victim before signing the agreement.
Differences in Service Capabilities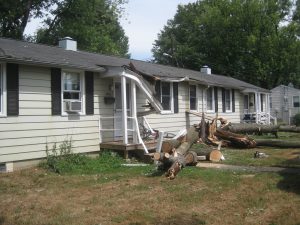 As in all industries, there are multiple vendors that will have different services and resources. In the contingency planning process, it is probable that you are interested in a company that can accommodate both large and small scale destruction with a wide service area. In your company, the contingency planner must consider a "worse case" scenario.
If a commercial property has been affected, is the restoration service able to provide the necessary resources to restore the entire building and contents involved if they were severely damaged. A qualified vendor would have a team of professional technicians on call 24/7 and would be able to arrive immediately.
For large losses, if the volume of work is too great that the vendor's resources are not able to accommodate all of the damage, you will want to find a vendor that specializes in large-scale commercial services (such as RestorationMaster). In comparison, commercial property disasters are exceedingly more involved than residential property damages.
For example, automated production equipment and electronics contained in a warehouse will require specific restoration equipment and procedures that are different than those typically required for a home. You will want to ensure that the chosen vendor is able to adapt their service and resources to accommodate all of your needs. Therefore, the capability to complete a large-scale project is crucial, not only to you but your insurance provider.
When selecting a restoration service, it is also essential to consider their tasks and integrity. When they are willing to provide open communication in regards to the severity of the damage, rather than simply "telling you what you want to hear," is extremely important during the recovery process.
Steps to Take When Hiring a Restoration Service
When choosing a qualified vendor, you will want to make sure that you can trust them and that they will provide a quality service and cater to your needs. The following information is a list of guidelines to accomplish each task accordingly:
Decision Factors. You will want to hire a damage restoration provider who will not only have all of the necessary resources, but will have the needed experience to accommodate all production needs. In addition to in-class and on-the-job training, it is crucial to have the necessary experience in dealing with a large commercial loss that is actually large enough to be equal or more than the vendor's annual production. The differences in damages between commercial and residential property are simply too extensive to be explained in this guide. However, experience in both settings is absolutely crucial. Ultimately, you will want to have a vendor who values your staff as well as their own to have an established safety and health plan, in addition to being available 24/7.
You will also want to select the vendor whose values are the same as your company. If you have various locations or facilities that are located fairly close to each other, a local vendor should be able to service both locations. On the contrary, for locations that are far from each other, it is essential to choose specific vendors for each facility. RestorationMaster recommends to choose a provider that is available on a national scale to avoid different procedures and costs.
You should be aware of a variety of factors. It is important to know at least the basic information of the provider. Look closely at the references and testimonials provided by each vendor while trying to identify customers whose values are similar to those of your company's. The restoration services' experience is important, but you will want to know the experience of your technician as an individual. This should include their response time, the services they provide, as well as any of their guarantees.
If you would like to inquire more information about RestorationMaster, our values, or staff, please do not hesitate to call us at (888) 915-7197. We are available 24/7 in Portland, OR and the surrounding communities, including Beaverton, Hillsboro, and Vancouver, WA to provide professional restoration services.