Quick action is the key to emergency restoration services. RestorationMaster emergency professionals are ready to help you 24/7, every day of the year.  Our emergency restoration professionals are ready to help you with everything from a burst water pipe to major fire, flood or storm damage.
We can typically schedule emergency response service within three hours of your initial call, and we'll work with you throughout the emergency service restoration to help you make the best decisions about repair, restoration or replacement of your property.
Our emergency restoration services include: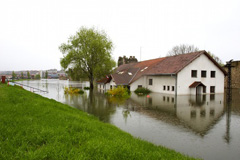 •    Fire damage
•    Smoke damage and soot removal
•    Water extraction and drying
•    Flood damage
•    Mold remediation
Our professional emergency services specialists have the training and equipment needed to quickly and effectively fix the crisis with your property.  Onsite emergency service restoration includes using specialized methods required for water removal, drying walls and other surfaces, removing soot and odors, and mold remediation to prevent future problems.
If there is significant property damage, our emergency response service can remove items from your property and take them to our facility for complete contents restoration.
And no matter what type of professional emergency services are required, we'll work with your insurance company to help coordinate handling the claim.
Use the forms on the right to request a quote for emergency restoration services or find a local emergency restoration company by state or ZIP code.