(410) 690-7508
Hoarding is a complex mental disorder that can seriously impact the lives of the millions who suffer from it, as well as their families.  Those who struggle with compulsive hoarding allow clutter to build in their homes because underlying anxiety makes it very difficult for them to dispose of anything they have collected.  As the amount of clutter grows, it restricts access throughout the home and increases the risk of fire and injuries.  Extensive clutter also contributes to unsanitary conditions by allowing for mold or bacteria growth.  It is very important for the health and safety of hoarders and their families to clean out their homes and restore safe and sanitary living conditions.
At ServiceMaster of Baltimore, we can help clear out and restore homes affected by hoarding in the Baltimore, MD area with our hoarding cleaning services.  Our technicians are fully equipped to remove extensive clutter as well as disinfect the home to restore sanitary living conditions.  We also approach hoarding situations with a sense of compassion and respect for the affected individual and keep them actively involved in the process.
Approaching a Hoarder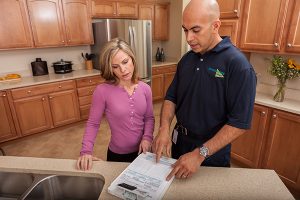 In most cases of hoarding, the hoarders themselves do not initiate the cleaning process because they are either embarrassed by the condition of their home, or do not understand that there is a problem.  This means that a trusted friend or family member must approach a hoarder to start the cleaning process.  Because hoarding is a mental disorder that is tied to anxiety and depression, you must approach the hoarder delicately and help them understand the dangerous living conditions that their hoarding habits create.  Only after the individual agrees to proceed should you start the cleaning process or contact the professional cleaners of ServiceMaster of Baltimore to help.
Our technicians at ServiceMaster of Baltimore understand the complicated nature of the hoarding cleaning process.  We are trained and equipped to provide effective, large-scale cleaning services, and we also take a compassionate and respectful approach to connect to the individual.  It is important to remember that you are in the hoarder's home and clearing their things.  Nothing will be removed from the home without the permission of the affected individual.
Our complete hoarding cleaning services consist of the following steps:
Forming a personal connection with the affected individual through compassion and respect
Creating a customized cleaning plan with the help of the affected individual
Removal of any unwanted items
Removed items are marked for disposal, recycling, donation, or distribution to friends and family members
Movement of large items like furniture and appliances
Complete cleaning and sanitization after the unwanted items are removed
We understand that approaching a hoarder is difficult, but the conditions of a hoarder's home will get much worse unless something is done.  If you need help cleaning out a hoarder's home in Baltimore, MD, contact ServiceMaster of Baltimore for our hoarding cleaning services.  Our technicians use advanced cleaning methods and equipment to bring the home back to sanitary conditions, and we also approach the affected individual with the utmost respect.  You can reach us 24 hours a day at (410) 690-7508 for more information.
---
Related Hoarding Cleaning Services