Hidden Problems Caused by Water Damage
Moisture can seep into the inner recesses of a home with as much sneakiness as a F-117A stealth aircraft. However, unlike stealth technology, water damage can be detected. Homeowners should be aware of signs of hidden water damage.
1: Mold
Mold colonies can infest a water-logged home in the blink of an eye. Within 24 to 48 hours of water saturation to porous materials, such as wood or drywall, hungry spores will latch and rapidly multiply. A mold invasion requires just three factors: moisture, oxygen, and an organic food source.
When mold outbreaks manifest behind walls, homeowners are usually unaware of the destruction. The excess moisture can be due to a leaky water pipe or accumulating condensation. Whatever the cause of the hidden water damage, mold should be addressed as fast as possible.
If musty odors linger in the vicinity, mold is the likely culprit. Homeowners who suspect mold behind their walls can determine growth with a smell test. The area behind walls can be accessed through electrical outlets. Homeowners who smell mold near the outlets can be sure of a mold problem.
Mold Hiding Spaces
The attic, crawl space and basement are less-frequented parts of the home where mold, under the right conditions, thrives. Even more secretive places where mold hides include the chimney, along the roof, inside the washing machine, in the air conditioner and beneath the wallpaper.
The chimney, like the window sill and air conditioner, accumulates dirt and grime. These rich food sources, along with the constant supply of moisture, nourish mold. A washing machine's wet rubber parts can attract mold unless the unit is left open to dry.
Clearly, hidden mold can cause apparent issues. Health problems to a home's occupants and structural issues within the home or office building deem the property unsafe for habitation. Mold is no friend to humans or pets and should be removed immediately.
2: Structural Problems
A home or business property features wooden and metal structures. When wood becomes saturated with water, its structural integrity is compromised. As soon as metal parts rust, they, too, lead to structural instability. Both scenarios make the building unsafe to occupy.
Hidden problems due to water damage surface when water stains sporadically appear. Ceilings and walls are often areas that reveal the presence of hidden water damage. Foundation cracks and cracks in wooden structures are also indicative of serious water damage.
Additional telltale signs of hidden issues due to excess moisture include rust that seeps out of cracks, wet insulation or wet electrical circuits. When windows and doors suddenly start to become difficult to open, water has infiltrated and caused structural damage to their components.
When unnoticed, water damage can cause irreversible ruin to porous materials. Wood and drywall will warp or shrink. Ceilings affected by water damage could collapse or sag. As soon as mold latches on, these materials are no longer useful and should be replaced.
Homeowners who notice water damage to the ceiling, for instance, should act fast. The initial response should be to locate the water source. If the moisture problem is due to a leaky roof, a contractor or professional water damage restoration service should be called in to fix the flaws.
3: Bacteria
Black Water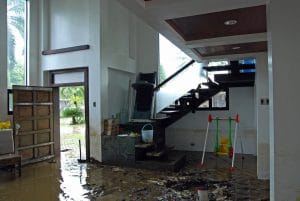 Toxic microorganisms are just as dangerous to people and animals as hidden mold and structural issues caused by water damage. Waterborne bacteria are found in black water, which is one of three water classifications used to determine how harmful floodwater is.
Black water contains the most elevated level of noxious pollutants. The contamination in black water comes from raw sewage (fecal matter, urine and other waste) or environmental chemicals, such as pesticides and fertilizers. Black water is the most toxic and should be handled only by professionals.
Grey Water
Grey water is also contaminated, but by less toxic pollutants. Water from dishwashers, broken plumbing pipes, washing machines and overflowed bathroom sinks contain a smaller amount of contamination. People can still succumb to illness if grey water is accidentally ingested.
Clean Water
Clean water is rarely polluted with chemicals or waste. Sources of clean water include melting snow, rainwater and malfunctioning appliances. Generally, clean water is safe for homeowners to clean up. However, clean water can degrade into grey water within 48 hours.
Only limited water damage may be visible as a result of black, grey, or clean water. The majority of damage may be hidden behind walls, allowing an infestation of dangerous bacteria and mold to grow unhindered. Moisture meters can help detect dampness where it is suspected but unseen.
Flooring that has been inundated with any classification of water should be pulled back and thoroughly inspected. Base moldings can become heavily saturated. Damp carpeting can also be removed and dried. As a heath safety precaution, carpeting affected by toxic black water must be discarded.
Open windows and doors to allow adequate ventilation and help dry out water damaged materials. An air mover positioned in the center of the room accelerates the drying process. Additionally, powerful dehumidifiers should be rented to draw out moisture from the affected spaces.
Water Damage Restoration for Hidden Water Damage
Home and business owners who confront hidden water damage and its issues are advised to consult a reputable water damage restoration professional. Licensed and experienced water damage restoration technicians arrive promptly to your home or business to begin the water mitigation process.
These water damage restoration specialists are skilled in safely cleaning up all three categories of water, including harmful black water. They utilize appropriate gear and advanced equipment to quickly mitigate the destruction caused by black water and halt the spread of contamination.
Whether the water damage is due to manmade floods, such as those from leaky appliances or burst water pipes, or natural floods, such as those due to heavy rainstorms or hurricanes, water damage restoration professionals are equipped to quickly respond to all types of scenarios.