What Causes Water Stains on the Ceiling?
Nothing can be more annoying than to find a ceiling water stain. Every time you look up, your eyes just end up wandering back to that ugly spot. And if you're like many property owners, it will bug you until it's fixed. But what's more important is figuring out what caused it so it doesn't happen again in the future.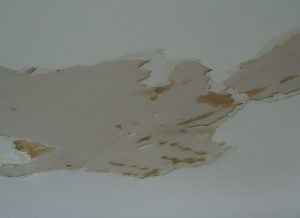 While finding the source of the damage can be difficult, inspecting the surrounding areas would be the first step towards finding it. Identifying the cause can also determine whether or not this can be a DIY project.
If the damage has spread throughout a larger area after finding an untreated leak, don't hesitate to address the problem immediately. Whether you need to call a plumber for a pipe leak or a roofing contractor for a roof leak, do so immediately.
Then to repair the damaged area, call a water damage restoration company. These professionals should be available 24/7, especially if the water continues to accumulate on the property.
Common Causes of Ceiling Water Damage
Leaking pipe. Once you spot the stain, inspect all angles of the damage, including the roof, the floor above, and even the floorboards. Although you may want to check the floorboards last to avoid removing parts of the floor. But if you have checked all other areas, listen carefully to see if you can hear water running through the building materials. If so, the damage was caused by a leaking pipe – which is common – due to many running under floors and behind walls.
Old and Outdated piping. Especially for older homes, the plumbing system may be outdated and develop leaks more easily than others. In other cases, the pipes can also "sweat" water, in which the insulation is cheap, old, or installed improperly, causing water to drip from the pipes.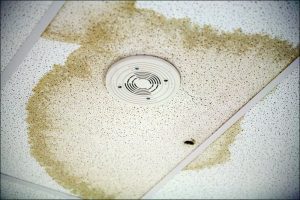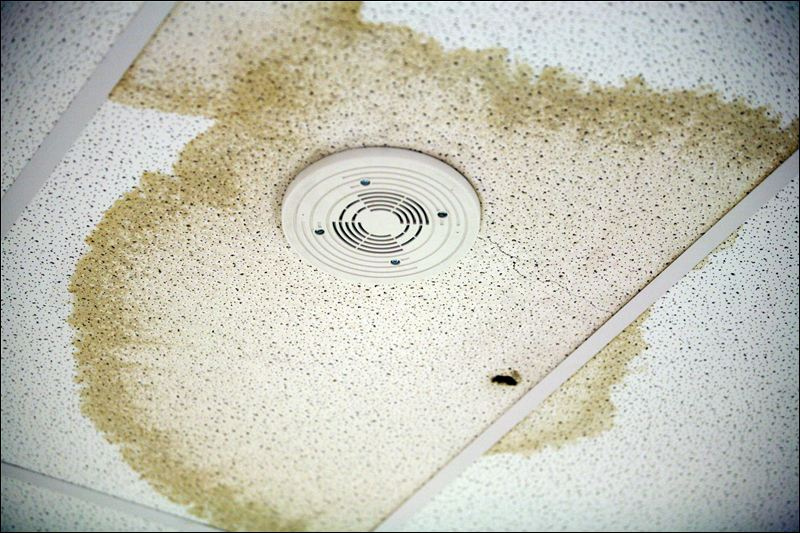 Roof problems. For water stains on ceilings on the top floor of the home or building, you will have to grab a ladder and climb onto your roof to find the problem. This can be especially difficult in the winter time as ice dams can form, meaning you will need to upgrade your insulation. You may also need to hire a roofing contractor for this job, but at least you will have already identified the problem, thus keeping labor costs efficient.
Repairing Ceiling Water Damage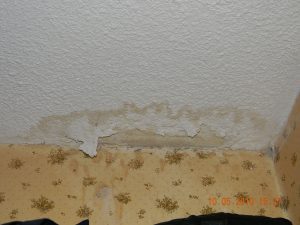 Having the water stain repaired will only be helpful after the source is removed; otherwise you will find yourself in the same situation. But after you are sure the leak has been fixed, go ahead and take care of the structural damage. Whether you decide to call a professional water damage repair contractor or  do it yourself, ensure that the job is done properly.
While some stains will only require stain-killing primer and a simple paint job, others will require that a portion of the ceiling be replaced. If not, you will find that the stain will show right through the new coat of paint.
If you are unsure, don't hesitate to hire an outside contractor. Many can also provide a free estimate beforehand.
Never Ignore Ceiling Water Damage
While addressing ceiling water stains is never an exciting task to do on the weekends, ignoring the damage will only lead to bigger problems down the road. The longer the stain is left alone, the damage will continue to spread over time and can even become permanent if not addressed quickly.
But once the stain has been repaired, ensure that it doesn't return in the future by keeping moisture levels low. You can do this by running a dehumidifier and even prevent mold growth. Also have a professional roofing contractor perform an inspection to ensure that it's in good condition and not at risk for any leaks.
Water Damage Repair Company
While many water stains are less than a foot wide, others have spread throughout the entire ceiling and even into the walls. This is especially common for vacant homes and buildings, allowing the water to unnoticeably spread for weeks, months, and even years.
When this occurs, don't hesitate to call a water damage restoration company as soon as the source of the damage has been repaired. Our technicians are not only available 24/7 but will arrive within 2 hours of your first call to address the damage. They will then begin working to set up advanced drying equipment while removing and re-installing drywall on the ceiling. Within a timely manner, you can look forward to a whole new look – or even a whole new ceiling – within your property.