Can a Dehumidifier Kill Mold?
Until recently, dehumidifiers haven't been used very often as many individuals were not aware of their benefits. But thanks to growing awareness, property owners have learned that dehumidifiers have the ability to protect personal contents and building materials from water damage. So in addition to keeping moisture levels low, they can improve the comfort (and sometimes breathability) of the home or building.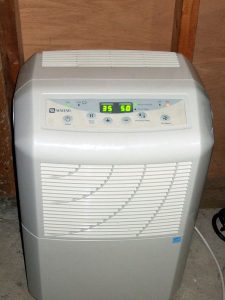 In addition, they also provide many health benefits, such as "thinning out" the air, allowing individuals battling asthma to breathe more easily. It can also help to prevent mold growth, keeping beads of water from developing on building materials and contents.
But the question is, can a dehumidifier kill mold growth and its spores? Read on to find out.
What is a Dehumidifier and How Does it Work?
Dehumidifiers are convenient machines that effectively remove moisture from the air. While comfortable humidity levels range anywhere between 30% and 60%, depending on personal preference, a dehumidifier can lower these levels while improving comfort and health symptoms. You can also measure the current humidity level in your home with a hygrometer and use it to help you adjust the setting on the dehumidifier.
How Dehumidifiers Work
When turning on the dehumidifier, they extract the hot air from the room, pushing it through a fan within the machine. The air is then pushed back out, but the moisture is captured and held within the unit. Now with a drier room, there is significantly less of a chance that condensation will form on your building materials and belongings.
This also helps to prevent mold from growing in problematic areas, including attics, crawlspaces, basements, etc. But before you purchase the unit, think about the size of the room you want to dry out. The smallest units reach as low as 30 pints each day while the larger machines run up to 90.
Can a Dehumidifier Remove Mold?
No. Dehumidifiers cannot remove mold. If the area is small, the mold growth can be removed with home remedies, such as vinegar or bleach, depending on the surface. For porous surfaces, use vinegar and for non-porous, use bleach.
If you have found a large patch of mold in your home and are experiencing negative health effects, such as coughing, sneezing, difficulty breathing, watery and/or itchy eyes, or other allergic or asthma problems, call a mold remediation specialist right away. Avoid all contact with the affected area because the spores can be detrimental to your health. But cutting off the source – which is moisture – would be the first step to preventing it from spreading.
So although dehumidifiers do not kill or remove mold, they do help to stop it from spreading. This will also prevent additional costs and time spent during the remediation process.
ServiceMaster: Professional Mold Removal
When searching for a mold removal company, it is important to choose one that is licensed, experienced, and qualified to ensure that it won't return again after it's removed. A highly recommended company would be your local ServiceMaster; their professionals have years of experience in removing mold. They will also ensure to prevent it from returning in the future by using commercial products and equipment.
In addition to eliminating the spores, they can also make necessary repairs to the building materials whose parts were consumed by the spores. Either restoring or replacing drywall, carpeting, or flooring, you can depend on our restoration experts to have the job done both effectively and efficiently. Don't hesitate to give them a call as soon as you notice the mold growth in any area of your property.