How to Waterproof a Basement
Why bother waterproofing your basement? After all, the basement is just a wide open space to store seasonal items, unused furniture or whatever else that doesn't sit nicely in the frequently occupied rooms of your home.
Preventing water seepage from entering your home via the basement is crucial. A waterproofed basement is structurally sound. Foundation problems are avoided when your basement is properly sealed. Splits or chips in the foundation's concrete are often caused by water damage or high pressure. When left unchecked, these signs could result in a costly foundation repair.
Mold Growth from Water in Basement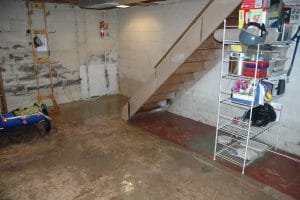 Mold grows in damp, darkened spaces. Your basement is the ideal place for mold spores to flourish when it is not protected by waterproofing methods. The health hazards associated with mold contribute to the home's occupants experiencing irritation, watery eyes, coughs, and a runny nose.
Just like mold feeds on moisture, dust mites thrive in high-humidity spaces containing soft, porous surfaces, like a bed or sofa. Asthma symptoms and allergies are triggered by dust mites. When the water from your basement evaporates into the upper areas of your home, high indoor humidity levels result.
Cut your energy bills by waterproofing your basement. Humid air is costlier to heat in winter and cool in summer. The US Department of Energy estimates homeowners spend 15 to 18 percent more on their electric bills due to the consequences of high indoor humidity.
When you decide to waterproof your basement, conclude whether to waterproof the interior walls or exterior walls (significantly costlier). Waterproofing the interior walls can be a simple, cost-effective way to manage and keep out the water flow from your basement. An exterior waterproofing service requires a professional to efficiently complete the task.
Interior Wall Waterproofing
Homeowners have a choice of four interior wall waterproofing methods. The majority of these techniques are straightforward and can be achieved as a do-it-yourself job or by hiring a handyman. Before you apply any of these waterproofing techniques, it is extremely important to ensure that any and all cracks are sealed with polyurethane caulk for narrow gaps and an epoxy filler for wider ones. (An epoxy waterproof mix is a convenient technique, requiring only water to be added to prepare the application. Carefully follow the manufacturer's instructions prior to use.)
Concrete waterproof
Apply coats of this cement-like waterproofing material to the walls with a thick brush. Concrete waterproofing methods cannot be applied over surfaces that have been previously painted. If your basement walls are painted, remove the paint by sanding, wire brushing or sand blasting the walls. Concrete waterproofing sealers are rather economical, with a 5-gallon bucket costing roughly $30 to $40 and covering 100 square feet.
Silicate-based sealers
Concrete silicate-based sealers create a waterproof surface. Once applied with a brush onto an unpainted wall, the sealers chemically react to the components found in concrete or brick to form a naturally solid waterproof surface. The silicate-based sealers will only work with two coats; a single coat rarely corrects the issue under normal circumstances. Silicate-based sealers are reasonably priced, costing $40 to $50 for a one-gallon bucket. Expect to pay slightly more to cover the costs of the additional coat.
Acrylic sealers
Waterproof paint is another cost-effective and easy, do-it-yourself method to seal your basement from the hazards of excess moisture. The waterproof sealer is thickly applied via spraying, painting or rolling, and can be used over painted surfaces. The bottom of the wall is where water pressure tends to be higher, so apply the paint generously along these areas.
Plastic panels
Sheets of plastic run excess water through the floor's drainage system. This process is only successful when used in combination with a basement drainage system. Plastic paneling is a pricey fix, costing a few thousand dollars to install.
Exterior Wall Waterproofing
Exterior wall waterproofing is the surest method to keep outside water from leaking into your basement. Water seeps into the basement from the moist soil outside or under the foundation. Cracks in the foundation can result from pressure due to expanding soil. Construction flaws can also cause porous areas in the concrete, which in turn allow water to enter the basement.
A waterproofing service professional will be needed to excavate the perimeters of your home before installing waterproofing coatings and drainage panels. The water navigates toward the bottom of the home's foundation with the aid of a sump pump. Exterior wall waterproofing can run from approximately $15,000 to $30,000.
Water Damage Restoration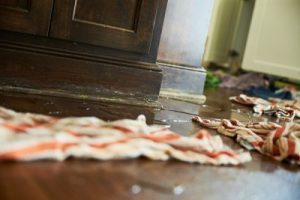 If you notice acid damage, which can be identified by the rusty, brown discolorations along a basement floor, then you can be sure ground water has seeped through the concrete foundation. Once water damage has occurred, contact a water damage restoration professional to restore your home to its pre-damaged condition. A water damage restoration company will not waterproof your basement, but they will clean up the ruin, giving you time to waterproof your basement with a method that is most convenient for you.
Flood Cleanup – ServiceMaster

The consequences of a water-damaged basement can be disastrous; however, water damage restoration specialists, such as ServiceMaster EMT, are trained and skilled in restoring your basement as quickly as possible. The technicians at ServiceMaster EMT will clean any water-logged carpets, upholstery or rugs. Utilizing advanced air drying equipment, the service professionals are equipped to restore electronics, fine art and antiques that have been affected by moisture. ServiceMaster EMT reliably serves the Las Vegas and North Las Vegas communities with speed and thoroughness.
Leaks in your basement require timely sealing. When your basement signals water damage, it becomes necessary to evaluate your basement waterproofing options as soon as possible. Plus, you can avoid repeat water damage restoration services by addressing the water leakages in your basement. Standing water or continual moisture in a basement requires immediate action and an effective waterproofing process.